An interview with author Genevieve Graham
by Alex Cabal
Updated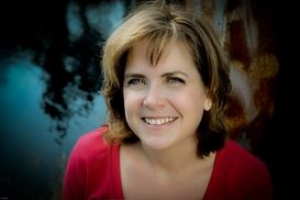 Joining us today for an author interview is long-time Scribophile member Genevieve Graham. Genevieve is a three-time published author with Penguin US. Her novels Under the Same Sky and Sound of the Heart have met with rave reviews. She also runs a successful editing business, Writing Wildly Editing Services. Today Genevieve sits down with Scribophile Social Liaison Cassidy Swackhammer to talk about her success and the life of a published writer.
Genevieve Graham: Thanks so much for inviting me to do this interview, Cassie and Alex!
Before I came over to Scribophile I was working with a smaller site called Review Fuse, and I still remember Alex sending me a note one day and inviting me over to visit his site. I was thrilled to feel as if he'd "recognized" me and wanted me to join his community, but I was reticent at leaving the group where I'd first stepped into the brave new world of submitting short stories. I'm so glad I did. While the first site gave me good input, Scrib was a real community, and the first place where I felt as if I belonged somewhere as a writer. The comments and suggestions were always encouraging and done in the right spirit. After a while I moved over to Authonomy and got caught up in that whirlwind, so I didn't have time to spend on Scrib. Then I was published, and I've been going like mad ever since. But I miss Scribophile. And whenever aspiring authors ask what they should do, I always send them to Scrib. So I'm really glad to be here today. Sharing what I know about the publishing business is the least I can do!
Scribophile: You've been through the publishing gauntlet most of us writerly types only dream of. What's the most challenging part of the process after the contract is signed? How do you cope with it?
GG: I guess that really depends on the author and his/her editor. Everyone's different, obviously. For me the first part was easy. About a month after the contract was signed, I received edits from my editor, but I was lucky in that department. She had decided not to change a thing, so other than the odd punctuation discrepancy, there wasn't much there for me to worry about. That was great. I imagine for some that'd be a tough moment, but for me it wasn't so bad. I actually used that as a learning experience. In fact it wasn't all that different from when I used to exchange critiques on Scribophile.
The biggest problem for me, I guess, was when I was sent the artwork for the cover. As you may or may not know, an author being published by a big house has little to no say over what's going to be used on the cover. My editor came to me and we talked about aspects of it, but the company's artists have their own thoughts (even if they obviously haven't read the book), and they're the bosses in that department. I wasn't happy about my cover at first, but let's face it. For years I'd built up my own impression of what that cover might look like—all mystical and mysterious—that the reality never really had a chance to equal what I'd already painted in my mind. I had/have concerns that it tells the readers that I write pure Historical "Romance," and that's simply not the what my story's all about. For those of you on Scribophile who have read my book (Hey, Babs!), you'll know that's not the genre. But Penguin knows what sells, and I learned to love the artistry of the cover even if it doesn't exactly tell much about the story. How do I cope with it? I'm a pretty relaxed person, so other than a few hysterical outbursts I'm usually pretty calm about all that. Besides, what choice do I have? Do I compromise my contract with a dream publisher for a cover? Do I bite the hand that feeds me? No! I'm here to write books, and when they buy a book from me that means I'm able to (partially) afford to write the next one.
Scrib: I saw your blog post about choosing book titles for your third novel and thought it was a great way to get your fans involved with your work. What's your favorite way to stay interactive with your readers?
GG: Promoting is something I never really considered when I was writing my first book. "Under the Same Sky" was an expression of what I felt inside and an adventure I was excited to share, but … stepping out there and plugging it? No, not me! Alas, promoting is hugely important to a book, whether you're traditionally published or self-published. I've tried loads of different ideas. The toughest was putting together my own blog tour, but it was also the most fun. Not sure how many books it sold, but it really thrust me into the hub of promotions. Those book bloggers are pros, and they work very hard. I don't know how they do it. Anyway, other than that I did book giveaways, but even though I had a number of promotional books provided by the publisher, the mailing costs alone threatened to bankrupt me! This Christmas I did a different kind of giveaway—I wanted to thank a few of the authors who had helped me along my first year, so I featured a dozen authors and their books (one a day), then gave their books away. That brought me new followers/readers, which is the whole name of the game, right? That's some of the promotions side of it, but you also asked about staying interactive. The truth is that I've been published by Penguin for over a year now, and I am still amazed when someone Likes my Facebook page, then tells me why! Readers? Fans? That's an incredible concept to me. I think my favourite way to stay interactive is through Facebook, because that's a place where you can actually chat with your readers, get their feedback, and give answers to questions whenever I can. I also put out a monthly newsletter, which includes my recommended reads for the month. I want readers to know that I'm just like them, always looking for the next great read!
Scrib: You must be excited about your third novel coming out this year. How do you keep your momentum going for a series like that?
GG: When I wrote the first book, "Under the Same Sky"—which was written in a large part here on Scribophile!—I had no plans to write a second book. My agent, Jacques de Spoelberch, called me that fateful night and said Penguin not only wanted to buy the first book, but wanted to contract me to write a "companion" novel to that one. He asked if I had any thoughts on that, so of course I said yes … then wandered around in a panic for a few days while I tried to put together some kind of story. I should have known better. I'm a writer. My stories will come looking for me when it's time. I woke up one morning with the voice of my first hero's brother in my head, telling me he had a story to tell. I was so thrilled! And … I figured that was all I was going to do with that. But about a year after I submitted "Sound of the Heart," the sister of my original heroine woke me. She was the quiet, fragile one, and I was shocked to learn that she had a story, too. It actually might be my favourite one of all. I've started working on a fourth as well, but have two other non-related books going at the same time. The only thing that stalls me is my editing business—but I need to feed the family somehow!
Scrib: Three-parter: Editing, writing, and ghost writing keep you busy. Do you ever have problems switching hats? Do you prefer one over the others? Why?
GG: I definitely have a problem switching hats. I think all my clients would understand if I admitted that I'd much rather be writing my own books full-time, but that's just not financially feasible. I'm not James Patterson, making $94 million a year. Sigh. When I started writing, I wasn't a full-time editor, so I was able to write a lot. Now I have to allot time for writing, and I find that time is difficult to find. Especially since I know any months spent simply writing will be bringing in no income. Last year I had a stretch of eight months of non-stop editing, and I tried alternating mornings/afternoons with their writing and my own, but when I went back I discovered my own writing was starting to feel a lot like theirs, and I had to redo most of it.
As an editor, one of my goals is to always maintain the author's voice, which means leaving mine behind. When I try to squeeze in my writing between editing jobs, sometimes I can't find my own voice. That can be quite scary, to be honest. Ghostwriting is something else altogether. I really enjoy ghostwriting, when it's for the right client. When the client knows exactly what they want, just not exactly how to write it, that means they are leaving the actual writing part up to me. That's ideal.
Scrib: I need to ask the question I'm sure everyone asks. How did you start working with your agent?
GG: You mean how did I finally hook an agent? Well, first off, it didn't happen overnight. I put in my querying time. Oh yeah. The first time I sent out my book it was twice as long as it ended up being, but I had no idea how to edit at that point. I must have sent out over a hundred queries using the shotgun method. Two years later, after working intensely with every single word, every single sentence, I focused on the querying process and started again, but this time I was particular about who I contacted.
But where my connection finally happened was at Authonomy.com. I'm not going to talk about that site here, but suffice to say that other than the contacts and friends I made on there, I don't believe it was worth the craziness. Very cutthroat, in my experience, and unhelpful. But there were some wonderful people on there, and a few of them recommended their agents to me. That's how I found Jacques de Spoelberch, a legend in the agenting business (and also the original editor for "Deliverance"!). He called me one night, and we talked for a long time—I forget how long, but I do know I had no nails left by the end of that conversation. He didn't commit to anything except reading my book again after I'd played with his ideas. He wanted me to reconsider the ending and some other parts, and I was far too intimidated to question him. As I worked on it I wondered and doubted … but it turns out he was absolutely right about everything. After all, he sold it to Penguin in only 48 hours! There's just no messing with experience.
Scrib: A mad scientist has invented a time machine using his lawn mower, a frozen yogurt cup, and 3 bent spoons. He will only allow you to go back to right before you started working on your first novel, Under the Same Sky. What piece of advice would you give your past self?
GG: My first piece of advice wouldn't have much to do with my writing, I'm afraid. Before I started to write I was a stay-at-home mom with two very active little girls, and I spent so much time running around trying to figure out how to raise kids that I never really spent enough time looking after myself. Not until my mom put a book in my hand when they were about six and eight years old (they're 12 & 14 now). That's when I remembered that I was a person, too. Not just a mom. So my first piece of advice would be to respect myself and my own needs. I needed to take time and let myself read adventures, lose myself. That opened the door to everything. And actually, I guess that same piece of advice carries into my writing, because in that department I'd encourage myself to get over the guilt. I always felt as if writing were a guilty pleasure for me, as if I should be doing something more "productive" with my time. Then I got a contract and suddenly I was "legit." I needed to know that it was okay for me to give myself that time, to play with writing whether it was ever going to lead anywhere or not.
Scrib: Thanks for taking the time to chat with us!
GG: Thanks again, Cassie!
You can find Genevieve on Twitter at @GenGrahamAuthor.