An interview with NYT best-selling author Scott Sigler
by Cassidy Swackhammer
Updated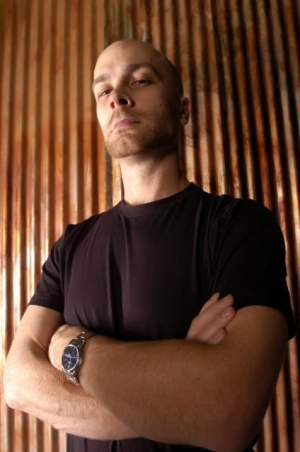 This interview appeared in our September newsletter. You can subscribe here if you want to read more great interviews!
We have a special treat for you today. New York Times best-selling novelist Scott Sigler, co-founder of Dark Øverlord Media and author of NOCTURNAL, ANCESTOR, INFECTED and CONTAGIOUS, was kind enough to take time out of his busy schedule to do an interview with us!
Scribophile:
You went beyond the bounds of traditional publishing with your podcast-only Earthcore. I know it was at least in part because you saw this as the future of publishing, but what was your "Eureka!" moment, the moment it hit you that this was the way to go for Earthcore?
Scott:
When I learned about podcasting, I thought it was the ideal way to deliver serialized audiobooks. So, I went to look for serialized audiobooks to listen to, and couldn't find any. I tried Googling for variations on the phrase, but couldn't find anything -- that's when it hit me that no one had done it yet. That was the "eureka" moment, that I could get some publicity if I was the first one to utilize podcasting to deliver audiobooks the way networks deliver episodic TV.
Scribophile:
From the look of your website alone, I can tell you love your Junkies, your fans. What's the best way you think an author can give back to their fans?
Scott:
Just remember that you are there for your fans. I think too many writers become successful and think that fans are there for them.
Scribophile:
What is your next big project and when can we expect to see it? What boundaries are you trying to push with it?
Scott:
We just put paperbacks of our YA series in Barnes & Noble nationwide. This was a big step, as we are the publishers -- we didn't sign the rights away to another publisher. It's been a ton of work and it's a very big gamble, as we paid for printing 40,000 copies of the books ourselves. THE ROOKIE and THE STARTER are in stores now. We describe the series as "Star Wars" meets "The Blindside" meets "The Godfather." It's a great scifi/sports/crime mashup that people really dig.
Scribophile:
For aspiring authors who want to be involved with social media and want to build a platform for themselves on that front, what is a piece of advice you wish someone had given you when you started?
Scott:
Write every day, re-write every story and and novel, then hire a pro editor and put the books into the Kindle store. eBooks weren't an established market when I started podcasting. If I started now, I'd be working on getting eBooks into stores as opposed to podcasting.
Scribophile:
Congrats on sending The MVP to the printer this month! Are there going to be any more tales from the Galactic Football League coming our way?
Scott:
We will have THE DETECTIVE out in a few months, a 40,000-word GFL novella. TITLE FIGHT will be out later in the year, and we're working on THE RIDER and THE GANGSTER for 2013. So we have our four novels -- THE ROOKIE, THE STARTER, THE ALL-PRO and THE MVP -- then these novellas as well as full, downloadable audiobooks for all of them.
So we'll continue to develop GFL novellas that explore secondary characters, as well as the full-length novels. The novel series is scheduled for seven books.
Scribophile:
What has been your favorite project and why?
Scott:
My favorite project is THE CRYPT, Book I of which will be out as an eBook and downloadable audiobook later this year. We hope to have Book II out in 2013. It's a horror/military-sf story that I think cultivates new ground in both genres. The real reason it's my favorite is I get to have "my ship," like the Enterprise or the Galactica. Our ship is a dark and nasty place, filled with awful people in a desperate situation -- no happy-happy/joy-hoy STAR TREK here.
Scribophile:
Our Scribbers like to debate the merits of outlining vs. pantsing (by-the-seat-of-your-pants style). Are you an outliner or a pantser?
Scott:
I do both. I outline extensively for the hardcover thrillers and the GFL novels, but for short stories and some other projects I pants it. As I write modern-day thrillers, it has to look, smell and feel like the modern day we all know. With integrated plots and plenty of foreshadowing, pantsing doesn't create satisfying closure, so I outline.
A huge debt of thanks to Scott for taking the time to let us interview him! If you'd like more information on Scott and his novels and podcasts, check out his website: http://scottsigler.com/.