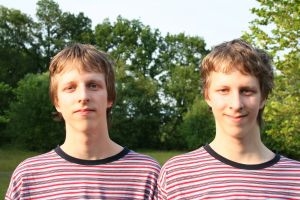 The Bell Jar by Sylvia Plath is a work of fiction. It's listed as a novel, make-believe, like the line from Mad Girl's Love Song: (I think I made you up inside my head). But The Bell Jar is not fiction, no, not really. The Bell Jar is based on Sylvia Plath's life, and although she changed some characteristics and the names of her characters, it's common knowledge that what we find in the novel is truly her life, the essence of it, exposed for all the world to read. Esther Greenwood is the novel's protagonist, and what she experiences during the course of the novel--serving as a guest editor for a woman's magazine in New York, having a nervous breakdown, attempting suicide--mirror events in Plath's real life. She took a certain period of her life, wrote about it, changed the barest of details, and called it a novel. It's true but it's not. It's not true but it is. Is it sixty-percent true? Seventy-percent true? I don't know. What I do know is that Esther Greenwood is Sylvia Plath.
Many successful writers have written novels that come precariously close to non-fiction: Ernest Hemmingway's A Farewell to Arms; Phillip K. Dick's VALIS, which is both an autobiographical work and also a science fiction novel; Charles Bukowski's Ham on Rye features Bukowski's alter ego Henry Chinaski; Hunter S. Thompson is quite famous for turning himself into a fictional character. Also, I'd be willing to bet my childhood that nearly all coming-of-age novels are based mostly on the author's own youthful misadventures.
Of course, instances of writers calling a fictional work "non-fiction" have made headlines in recent years, most infamously: James Frey's A Million Little Pieces, which is clearly an autobiographical novel mistakenly labeled as fact. I happen to think Frey's book is a terrific work of fiction. What Frey needed to do, though, was change his protagonist's name to Jimmy Fray, and concede that his book's hero is the imaginary tough-guy version of the author. I find it hard to condemn Frey as harshly as others have; I believe all of your popular current memoirists, like David Sedaris and Augusten Burroughs, are often completely full of shit. I still enjoy their books, but I simply worry little about the truthfulness of the work and enjoy the writing for its wittiness and entertainment value.
It's often said that most writers have at least one great novel in them. I believe this is true. All aspiring writers have a great story to tell: Their Own. My first novel was based almost entirely on a five-year period in my life when I discovered girls and drugs and violence. It was the story of an innocent sixteen-year-old boy who'd just got his first job at a fast food restaurant. He was a shy virgin who never touched drugs or alcohol. Within a month, he was snorting cocaine, shedding his shyness, and turning into a tiny devil of a ladies' man. The main character in that novel was named "Vern" and Vern, of course, was me. But it was a better version of me. A bolder version. Maybe a cuter version. A funnier version. A more daring version. Vern had the same adventures that I'd had, except he was crazier, more intelligent, more interesting, and not quite as dorky as myself. Vern lived my life, but with a writer's hand to guide him in certain directions that the writer himself wished he'd followed. Vern also had the luxury of a somewhat happy ending, for which the author still seeks.
After I finished my autobiographical novel, a problem arose. I thought, "Okay, I've told my story, now what?" It's no coincidence that many writers have trouble with their second novels. That first novel was easy. It was their life. It was the story they've been waiting twenty or thirty years to tell. But what of the second novel? What to write when you've exhausted your personal tales? Some writers are able to excel and feel a certain freedom when they take the autobiographical aspects out of their work, but other writers crash and burn.
How about you, dear reader? Have you written the thinly-veiled story of your life? Have you created your better/worse alter ego? Have you finished your somewhat true story and thought, "What the hell do I write now?" Is your writing fiction or reality, or a little bit of both?
Even though I've written my autobiographical novel, slivers of my own life inevitably creep into anything I'm writing, whether it be horror, sci fi, or even historical fiction. I could write about a serial killer and still have bits of my personality inside that soulless killer. I could write about a goat-herder in the Netherlands and I'd be somewhere in that character.
I can't keep myself out of my work. Can you?
So I ask: Are you fiction, or are you non-fiction? Or are the two indistinguishable?