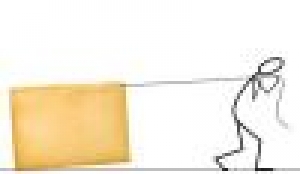 I'm feeling a bit overwhelmed right now. The news that Brad and Angelina may split has really, really…nothing to do with what I'm talking about. Well, that's not entirely true. Part of my problem is the wasted minutes I spend surfing these vast, seemingly endless invisible tunnels we humans call the internet. I fire up my laptop, with much work to do, several projects going on at once, and what do I do? I say, "Hey, let me check out TMZ and see if there's a funny celebrity mug shot." Or, "Gee, Ervin, I'll bet there's some really funny or heartbreaking messages on Post Secret." Or, "Well, I haven't check my email in five minutes, so maybe I have a new message!" Or, "You know, I wonder what Alanis Morissette looked like back when she was a cast member on 'You Can't Do That On Television?'" This bit of ritualistic internet surfing is certainly a small part of my problem. Five minutes turns into an hour, and suddenly my writing time has been cut down considerably. Some days, I have the time to make use of all the wonderful, useless information the internet has to offer. But not lately. These days, I'm feeling overwhelmed, and that's my real problem.
What happens when a writer has so many projects going on at once that he/she feels like there's simply no time to sit back, smile, sip on a hot cup of coffee and watch "Saved By the Bell" on Hulu in peace? I'm at a point in my life where I feel like I have to work on something with every free minute I have. And, of course, as a writer, many of the projects I'm working on pay little or no money, but they are important to me for creative and personal reasons. Often, writers are not paid much of their work, but getting the work out there is usually more important than financial gain. Building a body of work can only help a writer. From one writing job to the next, the more work you have to show, the easier it is to acquire that next, potentially big writing gig. Still, when you're trying to pay your rent, writing for free on certain projects can be a hard pill to swallow.
My writing can be broken down into two categories: personal work, the original stories I want to tell; and professional work, the writing I get paid to do, usually on a deadline. When you're a writer trying to eke out some small living, the desire to take on more and more work is always there. "Well, I could sure use the extra cash each week," I often think. The problem being, lately I've taken on so much professional work that my personal work is beginning to take a back seat. I'll accept a critiquing job or an editing job, and suddenly I'm spending six days a week working on projects for pay, and one day a week trying to clear my brain of its many stories.
I need to find the proper balance. Waking up every day with six or seven projects that I should be working on essentially all at the same time is not optimal for quality work. I'll do a little bit here, a little bit there, switching back and forth between assignments, and often feel like I've accomplished very little. I need to know my limits, and not go beyond them. But, my oh my, it's so enticing when someone offers me work, when someone actually wants me for a specific project. I can't seem to turn down anything, even when I know I should.
I suppose the opposite problem would be worse: waking up every morning with nothing to write. I've been there. Not so long ago, I remember rising one bright morning, after I'd just completed a story that took a lot out of me, a story I was proud of, but upon completion of that story, I had nothing left to write. I spent the entire day in a funk. I had no purpose, no goal, no finish line to reach. Then I woke up the next day with a great idea and started writing again. Still, it's scary for a writer to say, "Holy shit! I have nothing to write today."
Today, though, I have too much to write. I am truly overwhelmed. The solution? Well, that's clear. I need to get better and better, good enough to have one or two projects that pay plenty of money. But I'm not there yet. So, I struggle. I write. I am busy. I have projects. I wake up with no time to surf the internet, no time to find out if Angelina and Brad are still happy together.
Yes, being busy is hard, but it sure beats the alternative.