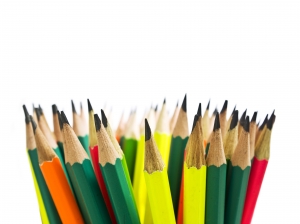 For the sake of brevity, I'll keep this introduction short: I attend a weekly writing group of 6 talented writers. We critique each other's work and these are some of the most common comments. I thought they might be helpful.
1) Vocabulary - It's tough. You want to avoid using the same word and being repetitive, but the last thing you want to do is use complicated diction incorrectly. I would advise not to use the thesaurus unless you absolutely have to, and when you do make sure you look up the word and know exactly how it should be used.
2) Weird metaphors - I'm a metaphor guy. What can I say, I like them. They can get a little wacky, though. One I recently deleted: 'If he had a bone to pick with his boss, having to cook for him was the marrow.' Get it? Bone to pick . . . marrow . . . yeah, no one else did either. If your metaphors just don't seem quite right to you, they are probably atrocious to others.
3) Subtleties - This comes in many forms. One example was a story about a character meeting new people and immediately having a feeling that they were either evil or good. The good vs. evil war is all fine and dandy, but the immediate recognition takes away the fun for the reader. Maybe we want to question the motivations of some of the supposedly 'evil' or 'good' characters. Also, in real life it takes time to come to conclusions about people (unless they slaughter a town in front of you). We want to be a part of that journey.
In the same light, it takes time to come to conclusions about things. As the author, YOU know that the Orb of Good Healing will save the planet from intergalactic grub worms, but when Harry first sees it, to him it's just a green glowing piece of stale popcorn. There's no reason for Harry to have a 'feeling' that what he's just found is more important than life itself.
Also: a) every time something happens, a character shouldn't automatically forget about whatever else is around him/her ('At the sight of her face, he forgot all about the bully who just rearranged his') b) not every girl/boy is the most beautiful/handsome thing anyone's ever seen c) not every event has to be life-changing.
4) Realism - It's a pain in the ass, but you've got to do your research when touching on certain topics. Or, at least, do a quick google search. For example, someone might write a scene where a detective calls a hospital pretending to be a patient's family member to gain information. Nope. People can get fired for sharing that. Doesn't mean you can't still incorporate it, but if you do make sure to show that you (the author) knows the character could get fired and everyone should act accordingly.
Other times it's just about what makes sense. Would a thirteen year old use a certain word? Why is your character risking his life for a cause he just learned about today? If I don't know much enough about it to care, why should he?
5) Stuffed dialogue. Dialogue should reflect real life, minus the chunky stuff. Meaning you have to cut from both sides. A lot of times my fellow writers' characters will explain themselves and how they fit into the setting through speech. For example:
John meets a woman in the hallway of his apartment. He has never seen her before.

"Hi," the woman said. "My name's Sarah. I moved in a week ago and I've been working nights to support my family so you may have not seen me around."
Also, characters might orate their feelings:
"You make me so angry," Cathy yelled. "We've been married five years and everything was good in the beginning. But ever since I've gained weight you don't want to touch me and it makes me so sad. And you know I got fired from my job for smoking and that's why I've been sitting around."

Jerry slaps her. "I just slapped you because I don't know what else to with you. You always complain and the kids are stressing me out. My anger issues are making this hard for me."
Instead, show us some of that through actions/incorporate in to dialogue in a more subtle way. Think about it this way: what wouldn't a person say to someone who already knows everything about them?
Words we say in real life but you don't need to put in front of every spoken sentence: Well, Hey!, I think, Yeah, Okay, Oh.
6) One-dimensional characters. A character who is right all the time is boring. A perfectly good character is boring. A perfectly evil character is less boring than all of those but more boring than he/she needs to be.
7) Clarity - I'd have to say the most prevalent and significant critique in my writing group has to do with clarity, and I'm willing to bet that you, dear reader, have struggled in this area at times yourself. Simply: does your writing paint a clear image? As imaginers, we writers are at an inherent disadvantage: we know exactly (kind of...) what our scenes look like, what a character does, and how everything interacts, but out readers start with a blank page that they can only fill in from what we tell them. Sure, imagination is also a big part of being a reader, but if you leave out important details, the reader will be left scratching his or her head or, sometimes worse, filling in themselves and misinterpreting completely. Interpretation is also fine and dandy, but not when your 30-year-old bachelor is perceived as a teenage girl with a lollipop.
Anyone like to share the critiques they see most often in your own groups/here at Scrib?