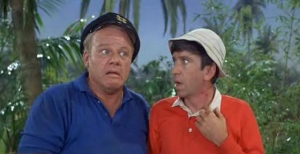 Just sit right back and you'll hear a tale.
For a writer, it doesn't get more basic than that, does it?
I spent many afternoons watching old episodes of Gilligan's Island, a silly sitcom about the adventures of a gruff, but loveable skipper, his hapless first mate, and the five passengers they shipwrecked on an island when their boat The Minnow--remember my blog on funny words?--was lost in a storm. I spent those half hours giggling my fool head off at their crazy antics. Of course I didn't realize it then, but as I watched Gilligan botch their repeated attempts to be rescued, I was also learning all kinds of things about story structure. At the tender age of ten, however, I was more worried about the rising lagoon (remember that episode?) than the rising action.
Here are some of the basics of structure that I learned from the Skipper's "Little Buddy":
Stasis. Every story starts in stasis, meaning that the characters are existing in a status quo. They're going about their daily lives with no instrusion. The Howells are counting their money or redecorating their hut, the Professor is doing an experiment with bamboo and palm fronds and the transistor radio, Mary Ann and Ginger are making coconut cream pies. The stasis stays in effect until the inciting moment occurs that knocks them on their ass and everything changes.
Inciting Moment. The inciting moments on this show were never, ever subtle, but that was part of the fun. The stasis ended when a capsule of Russian cosmonauts landed, when a voodoo doctor shipwrecked, when a rock band (The Mosquitos) tried to escape their fame, when natives thought Gilligan was their returning God (a personal favorite), when Gilligan saved Leilani's life and she became his slave (a ten year old boy's dream. Sorry, ladies). There was even one episode where the big game hunter decides to hunt humans and chooses Gilligan as his quary (a premise based "The Most Dangerous Game," a short story I teach in my classes, although I suspect the students wonder why I'm smiling over a story about a psychotic murderer. I blame it on Gilligan).
Obstacles. Each episode had at least three classic obstacles that the castaways encountered which made their situation more dire—many of which involved the islanders getting stuck in a cave, becoming MIA, being locked in a prison, losing their minds, or turning into zombies. Fun stuff. Climax/Falling action. Although Gilligan's Island could be a bit heavy on the Deus Ex Machina, sometimes the conflict was resolved and the castaways saved by their inherent goodness, the Professor's intelligence and quick thinking, their overall teamwork, or just dumb luck.
Conclusion. A comedian once said, "Remember that episode of Gilligan's island where they weren't rescued because Gilligan effed it up?" The joke is that this was the conclusion of every episode. Even though they had to stay on the island, there was a strange comfort in this. Everything went back to the stasis that they enjoyed at the beginning of the story and they still had each other. That's what every family hopes for after conflict, isn't it?
Structural tools. Throughout each episode we witnessed a smorgsboard of other writer's tools such as slapstick, inner monologue (Gilligan often wandered around the island talking to himself so we could be privy to his thoughts), dream sequences, satire (The Mosquitos, named after an annoying insect, were clearly poking fun at The Beatles), and parody (who can forget the castaways' production of Hamlet with producer Harold Hecuba).
I'm only now realizing that Sherwood Schwartz, the creator and producer of Gilligan's Island who recently died at the age of 94, was probably my first writing teacher. In addition to story structure, Schwartz's castaways also introduced me to many other writing concepts such as archetypes, character psychology, symbolism, comedy, subtext, and a host of others. I confess, though, that I was blind to this education while I was watching the show. I was laughing at Bob Denver pretending to be Hamlet. And of course, it must be said, a part of me was keeping tabs on Mary Ann. *I am authorized to give two karma points to the first person who correctly identifies the significance of my blog post title.
Did you ever learn anything about writing from watching T.V.?