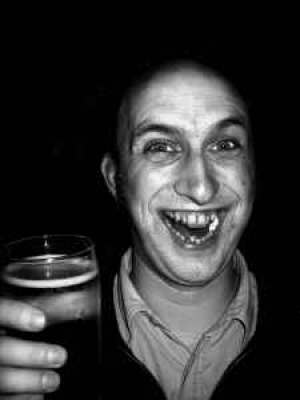 We've all had interesting conversations about writing with non-writers. People will ask, "Where do you get your ideas?" and "What drives you to write?" and "Writing is hard, right?" This past weekend, I had the privilege of having my first drunken conversation about writing. I wasn't drunk, but the guy asking the questions certainly was. It was a rather amusing exchange, and about halfway through the conversation I was certain someone was filming me with a hidden camera. But, since I'm sure the grinning young gentleman grilling me about writing has no recollection of the conversation, I want to recreate it here, in case he ever checks out this blog, but also because I think it says something important about writing. For my purposes here, we'll call him "Drunken Guy."
DRUNKEN GUY: "So, what are you, like, some kind of artist or something?"
ME: "Sure. I write."
D.G.: "What, like, stories and stuff?"
ME: "Stories, articles, reviews, all sorts of things, really."
D.G.: "Yeah, that's cool. But where do you get the words from?"
ME: "The dictionary. There are lots of them in there. I've got most of them memorized. The English language has been around for a long time, so there are many to choose from."
D.G.: "Oh, wait, so you don't, like, make up the words or nuthin'?"
ME: "No, I generally try to use words that already exist. Making up words doesn't really work if you want people to know what you're talking about."
Now, at this point, I began to wonder if the guy was just screwing with me. But I kept speaking, because his glossy, bloodshot eyes did appear curious, and because he seemed to have me cornered. We can all have sane, generic conversations about writing, but rarely do we get to talk about writing with someone whose mind is close to mush. So, I went with it. Also, I was digging the stupidity of all.
D.G.: "I always wanted to write stuff. Stories and crap. I just don't know where to get 'em. Where do stories come from?"
ME: "Stories come from everywhere. Your own personal experiences, people you've known, a strange person you saw on the bus, a news story, a dream, out of thin air. Stories are everywhere. You just have to figure out the type of stories you want to tell. You could even write about stuff that's happened to you. Have you had some crazy adventures?"
D.G.: "No. I want to make stuff up. Where can I get some characters?"
ME: "A lot of writers always write about themselves, even if it's fiction. The main character could be a man, woman, or robot, but the writer always infuses the characters with a bit of his or herself. Some writers never stop writing about themselves. Sure, the lead character might have a different name and different personal traits and features, but, really, the writer is still telling very personal stories. We all write from personal experience. Sure, we're making stuff up, but it comes from each writer's very distinct point of view."
D.G.: "Where can I get one of those pointy view things? A bookstore?"
ME: "No, I don't think they sell those there. Your point of view is inherent to you. What do you believe in? What do you feel passionate about? What injustices enrage you? What can you say that no one else can say?"
D.G.: "Whose gonna care what I have to say?"
Me: "Someone. All you need is one person to care and you've succeeded."
D.G.: "You're funny. How I am gonna be rich if only one person cares?"
Me: "Maybe if you just want to be rich, you should go into real estate."
D.G.: "Cool. I'll give that a try."
And that was that, more or less.
I think writers sometimes take certain basic things for granted. Writers get ideas. Writers have characters and stories swimming in the oceans of their brains. For writers, the stories and ideas just come. For non-writers, especially drunken non-writers, that concept is as foreign as Swahili or the beer in their hand.
Before this recent conversation, I'd tired of talking about writing, because I'd always been asked the same questions. But a question as simple as "Where do you get the words from?" really sent my head spinning, though not in a Linda Blair kind of way. I have always taken for granted that the words would just be there, and they always have. When I write, the words pour out of me. I have no idea what it's like to not have the words. I'm so thankful that I do, and that the words like me, and continue coming. I don't know what I'd do without the words. Or without a dictionary.