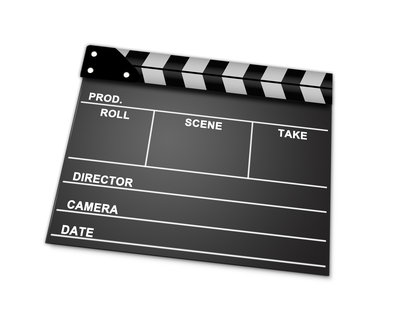 If you've written a screenplay or a television pilot, sooner or later you're going to have to pitch it somewhere.  Unlike manuscripts, there are no hard and fast rules about where and to whom you submit your queries, but there are a number of terms you need to familiarize yourself with.
Generally speaking a query for a screenplay contains a logline, sometimes a synopsis, and very little else. Spend your time and energy toward getting the logline right because most of the time, that's your one and only chance. 
Logline (n.) - a one-to-two sentence description of your story, carefully crafted to hook a person into reading your screenplay.  Should be short, but descriptive and specific. See also: pitch.

 

GOOD EXAMPLE: An ex-pat American in Morocco finds himself unable to keep World War II at bay when a former lover and her resistance leader husband come to his cafe seeking help in getting out of the country.

 

BAD EXAMPLE: A  World War II drama about a man and the ex-lover who dumped him in Paris.

 

BAD EXAMPLE: In the 1940s a man named Rick owns a bar in Casablanca, and keeps to himself. He runs into Ilsa Lund, a woman he fell in love with in Paris, only now she's married to a rebel fighter from Czechoslovakia who needs to get to America to keep fighting the Nazis, and Rick has the letters of transit they need to flee the country hidden in a piano.
The first is best because it has it all - it's quick and to the point, illustrates exactly what the film is about, and implies there's romance, intrigue, and exotic locales. The second one is brief, but uniformative, and Casablanca never would have been made if it was pitched like that. A war movie about a man who got dumped? Who cares? 
The third, of course, is detailed, but to an extreme. It's too wordy, sounds awkward, and definitely can't be uttered in one breath. You'd tune out halfway through.
The best way to practice is to write loglines for existing films, and then challenge people to guess the film from the pitch. You should also ask them if, based on the logline you gave, it would be something they would be interested in watching.
Some pitches can include a synopsis, though really if you've done your logline right, you won't need it until a producer or agent specifically asks for it.  Asking to see a synopsis is good as it means your initial pitch did its job and hooked the reader.
Synopsis (n.) - A brief summary of the plot, no more than two paragraphs. Can include the ending, or not. Frequently confused with summary which is typically longer and includes more details.

 

GOOD EXAMPLE: A young girl from Kansas is swept away to a magical Technicolor land called Oz with her little cairn terrier, and is given a pair of ruby slippers by the good witch of the North for protection.  As the girl searches for a way home, her trip down the yellow brick road introduces her to a scarecrow seeking a brain, a tinman without a heart, and a lion in desperate need of courage.  A wicked witch sends flying monkeys, poppy flowers, and other obstacles to stop her, but she and her companions successfully reach the Emerald City and meet the wizard who will give them what they need.  When the wizard is exposed as a fraud, it's the good witch who tells the girl that she has had the power to return home all along, just by clicking her heels together.  

 

BAD EXAMPLE: Dorothy Gale lives on a farm in Kansas with her Auntie Em and Uncle Henry. She sings a song called, "Somewhere Over the Rainbow" and gets swept up in a tornado that lifts her whole house off its foundation.  When the house finally lands she's in a place called Oz, and she's greeted by a group of Munchkins from the Lollipop Guild who tell her her house killed the Wicked Witch of the East. Glinda, the Good Witch of the North, stops by and tells Dorothy to put on the witch's ruby slippers for protection against the witch's sister, then directs her down the Yellow Brick Road toward the Emerald City where the Wizard of Oz lives (etc. etc.)
This is where the world of publishing and the world of screenwriting can confuse you. In screenwriting, a synopsis covers the basic plot outline, and may or may not include the ending whereas a summary will detail what happens throughout the story and definitely includes the grand finale.  The two terms are frequently tossed back and forth to the point that I don't know if there is a right or wrong anymore.  Just know that for the sake of a query letter or a pitch, your 'synopsis' should be brief and just cover the basics.
Ultimately, just remember that the shorter the query the better - providing it still gets all the necessary information across.  Unlike with book queries, screenplay pitches don't need to include anything about you beyond your name and a place where you can be reached.
Just take it one logline at a time.