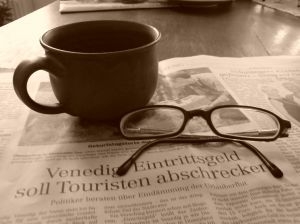 Allow me to grieve for a moment or two.
I just canceled the subscription to my local newspaper. This may seem like a fairly trivial thing, but to me, it marks the end of an era in my life.
I grew up with newspapers in my house. My parents never went to college, but they read the paper every day, and I remember fondly grabbing the Sunday funnies, stealing away to the front porch, and checking out the adventures of my favorite characters. At Christmas, our local paper always ran a serialized story, and each chapter had a cliffhanger ending. I couldn't wait for the next installment! I used to peer over my dad's shoulder, reading along with him; I helped Mom clip coupons. It was a part of my life, every day.
Here in San Diego, I started my career as a journalist at the Evening Tribune, one of two serious newspapers. These were papers whose staffs had won Pulitzer prizes, who had broken important news stories, who had been an official record of life for people in the town. I worked there for several years, and eventually, the two papers merged and became one due largely to economics.
I still subscribed, of course. I was a journalist, and I wanted to support writing, investigating, and the print medium. But this year, our paper was sold to a land developer. He decided that biased reporting and editorializing on every page was his mission, and he was unashamed in his use of the newspaper to further his own political agenda.
I'm not naïve; I know that although newspapers strive to be unbiased, human beings write the articles, so there is bound to be a prevalent opinion. But our beloved local paper had become a screed, something for friends and donors of the developer and his political cronies to use as their pulpit. I just couldn't support it anymore.
Newspapers run so deep in our culture. The ink stains our fingers, runs into our blood, and has become part of who we are. Think of all the things cut out of local gazettes that we keep: awards, photos, funeral notices. This is our totem pole. This is our thread through history. Something so thin and transient as newsprint has held us together with information for generations.
Today, though, newspapers are largely an antiquated medium. I know this in my head. With the instantaneous nature of the internet, news ceases to be news within five minutes. A printed version of daily events can't hope to keep up. I know this. Stiill, I find that my heart hurts. There is an ache for something intangible: maybe it's nostalgia, maybe it's the feeling that we've too easily let go of something important, maybe it's the fact that I won't have the pleasure of sitting with a cup of coffee leafing through those big smudgy pages on a Sunday morning.
Whatever the reason, I grieve. I mourn the loss of what was, and do not see current modes of communication as a worthy replacement. I suppose this marks my aging, to some degree. I am not sure younger people would feel this loss the way I do. I suppose that's also a part of my sorrow: my son may not remember sitting down with the newspaper to do the puzzles or read the comics, although he's nine and he has done it every day of his life. It will fade like a memory of a person who's died, and he won't have that thread through his life as I did.
Anybody else feel like crying?