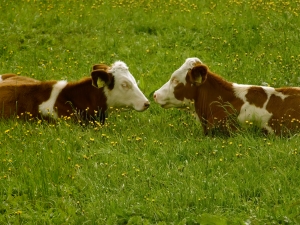 Characters in books don't talk like we do. If you were to listen to a recording of yourself, you'd probably be surprised at not just the amount of 'ums' and 'uhs,' but also by the frequency in which you stop and start sentences, change thoughts, or say words that aren't necessary. In fact, listening to dialogue verbatim can turn out to be very boring. We write books for a plethora of purposes (to scare, enlighten, sadden, mystify, move, etc, etc), but bore is not one of them. At the same time, if the reader does not think your dialogue is natural, he or she will be put off by it, distracted, and removed from the world you have labored so hard to create.
So how do we strike that crucial balance? Like anything, there isn't one set answer, but there are suggestions.
Listen to the people. It's very important. Conversations are your new world. They make up your life. Listen for how organically topics flow from one to another. Listen for how people say random things that are on their minds sometimes, or how 100% of the dialogue isn't always just about the topic at hand, but smoothly integrated into different settings and concurrent actions/movements. Know people that come from different geographical locations? Great! Learn how they talk. They WILL be prototypes for future characters. If reading will make you a better writer, listening will make your characters better speakers.
I know what you're saying. 'But Justin, you said written dialogue is not like spoken!' You're right, and so am I. Once you have a good grasp of conversation and are ready to sit down and write some of your own, ask yourself: what isn't necessary? Certainly the 'ums' and 'uhs' aren't. And the 'I mean's' and 'I feel likes' can go as well. Sometimes these flaws in our speech can be used in characterization, but only for that. They work there because they are distracting. If how the average person talked was captured in wirtten dialogue, the reader would most likely thing the author was trying to make fun.
Resist the urge to use dialogue as a time to fill in missing information about your story. This is the most recent example in my head, so I'm going to use it: I just watched a clip for a Mortal Kombat remake. In the clip, Jax is talking to Scorpion trying to convince him to compete and starts with the ever-too-familiar method of telling Scorpion about himself as a way to hype up the man and bring him on his side. Would this happen in real life? Unless he has Alzheimers, the guy knows himself, he's been that for his entire life. The same goes for your stories. It appears as the easy way out to dish out information through your character, but if the situation doesn't call for it, it will just come out forced and unnatural.
Don't curse! Or, at least, not much. In practicing my 'listening to dialogue' abilities, I discovered that my group of friends curse a lot more in normal conversation than I've ever read in a book. And I have to be aware and catch myself not to transfer that trait over. In the first draft of one novel, I found that I used the 'ef' word a lot, simply because it was a frequent visitor when I was formulating things in my head. Like the unnecessary parts we must trim, vulgarity in speech can take the reader out of the moment. It should not be part of your regular dialogue, but more as characterization.
Forget the he said, she said! No, really...forget it! Dialogue tags are necessary for keeping track between two or more people, but don't overdue it. We need water to live, but drink too much in one sitting and it will kill you. I've already expressed my distaste in getting flowery with tags (he exclaimed, he blurted, he ejaculated all on his chances of winning any literary awards, etc, etc, and so forth). Further, I'm suggesting that you reduce your frequency all together. Instead of tags, you can add character action that also implies who is speaking. Example: "The clock strikes at twelve." Cathy was standing at the door. We hadn't noticed her come in. In writing, we hate to be repetitive. Although dialogue tags are given a pass because of their nature, piling on too many can start having the same effect as repetitive writing.
And last, if you can't write good dialogue, don't! People will most likely disagree here, but I'm not saying give up! Continue to do all you can to improve your dialogue-writing skills, but while it's still a weak point, be true to yourself and your talent and don't feel the need to riddle your story with dialogue. Great dialogue will enhance your writing as much as bad will kill it. And we're authors, not murdered.