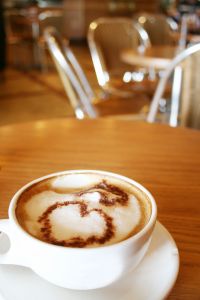 I can't write in my own house. Before I spent two years in the desert of Riverside, I thought I could blame my inability to concentrate on my parents, but roommates are just as much of a deterrent, even the rarely-seen ones. There are too many distractions in my living space, and even if I'm the only one home, there's a nagging sense that at any moment the phone could ring, I could be texted, messaged, Tweeted, Poked, or my beloved yet needy dog could decide it was the perfect time to chew up my television remote and then vomit on the carpet.  Though this would probably keep me from turning on the T.V., it doesn't exactly make for the ideal writing conditions. In the house, I can't finish a sentence without checking my iPhone.
I've always loved the highly romanticized idea of a writer scribbling away at the local cafe, squeezing words in cramped handwriting onto paper napkins, ever since I found out that's how J.K. Rowling wrote Harry Potter. Unfortunately, Los Angeles is ill-equipped for napkin-scribbling, which is ironic considering everyone and their mother's podiatrist is writing a screenplay. I've tried everything, and still haven't found that perfect spot, the one that fits my every need.  Finding a place to write is a delicate operation, somewhere that is conducive to creativity without cutting off all ties with humanity.
For a long time my favorite place to go was Barnes & Nobles. Just stepping inside the Ozian temple with its smell of freshly printed pages inspired me to write, fueling my determination that one day my books would be on those shelves. Then B&N wised up to freeloaders like me, and removed all the cushy store seating except for the tables and chairs in the cafe. The cafe serves Starbucks. I hate Starbucks. So I bid farewell to my writing oasis - and the two dollar mall parking fee - and started my quest for a replacement.
My aforementioned distaste for Starbucks means that seventy percent of the coffee places in my area are no-go. They have plenty of seating, yes, and encourage their customers to stay and schmooze, but their coffee is extremely bitter, and even now that Starbuck is ubiquitous, there's still something 'trendy' about the screenwriter with her laptop and half-caf-non-fat-Venti-caramel-machiatto. I shun the trendy whenever possible - buying a pair of Ugg boots for a trip to Chicago in February felt like selling out my fifteen-year-old self; I'm still not sure I forgive me.
Despite what the cynics say, I've never written in a public place just so someone would ask me what I was working on.
The city libraries are shiny on the outside, pathetic on the inside. For those, like myself, who like breathing in the atmosphere o' books, it's actually kind of depressing. After bypassing the homeless people seeking shelter and taking a seat in one of the unforgiving wooden chairs, all that's left is to drown in the silence of people you can't help thinking might be potential serial killers. They're not, of course, but it's just a little too quiet...and the unshakable feeling of being watched isn't worth the free parking. And there's a feeling of grime you just can't shake.
There are about seventeen Coffee Bean & Tea Leafs within a two-mile radius of my house. It's my coffee of choice, but I'm faced with a problem everywhere I go: Coffee Bean encourages commuters, not loiterers. They're all built in hole-in-the-wall storefronts, with limited seating inside, and a plethora of smokers outside. Everyone has a laptop - no one has a place to plug it in. I make the best of it, but can't help feeling that I'm taking up precious space on valuable property.
My ideal writing space would be a room with lots of natural light, a never-ending supply of mocha lattes, and a desk with an ergonomic desk chair. My computer would have external speakers, so I could blast my eclectic collection of music (everything from musical soundtracks to country rock), and super-fast wifi that would smoke the Road Runner in a race.  Bookshelves across every wall, packed with inspiration. No television. No phone. Just me and the keyboard, and a mini-fridge full of Dr. Pepper. 
What's yours?