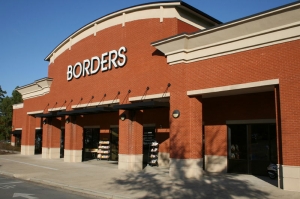 As we are readers as much as we are writers (and maybe, in some cases, moreso), most of us have probably heard about Borders and their financial woes. For those following the state of the publishing business, it might have not come as much of a surprise, but when I loaded my email and saw a letter from the CEO stating borders was filing for Chapter 11, I wasn't prepared. In fact, I think I had just come home from a day of writing and browsing in a Borders/Starbucks Cafe. I didn't expect to end the day knowing that 200 locations of my favorite store would be closed within the month.
I can't pinpoint exactly what impact Borders (and stores like it) have had on my life. If only small, independent bookstores existed, would I have still read as much? Maybe. If I grew up in an age with only virtual bookshelves, would I be a writer now? I can't say. But I do remember requesting to stop at Borders every time my mother took me to the mall as a kid, and carefully reading the back covers because, back then, there was no unified voice to tell me what was garbage and what was the Holy Grail. So, as you can imagine, I am sad to see the giant fall.
But what does this mean for us (and by us, I mean us writers)? Frankly, I didn't know. But as a writer/lover of the written word, it felt immensely wrong walking around that store and being met with 'Everything Must GO!' signs at every turn. I looked around at all the people, browsing books and reading in big comfy chairs, and I wondered if the culture would be around for long. It's not like Borders is the only store of it's kind, but Barnes & Noble shares are also dropping. And since they are essentially the same (just my impression...don't murder me if I'm terribly wrong here!!), it seems to me that one's demise is just a prerequisite for the other's.
Of course, I had to write about all of this. But like I said, I didn't actually know what this meant for authors. Would it really matter in the long run, considering everything is going digital these days? I'm a proud Kindle owner, and I'm starting to see the device replace paper more and more on my daily commute (yes, I ride the train...and the bus...and do casual carpool). Would the extinction of physical bookstores make much difference? I honestly didn't know, so I read up a little on it before starting this. To, you know, not sound stupid.
The short answer is: yes, Borders' current state could be a sign of hard(er) times to come for writers. According to the market research firm Codex Group, a study showed that 23% of iPad owners (surveyed from a bigger group of 7,500 book buyers) had found their last read by browsing book stores, compared to 11% from an eBookstore. Physical bookstores had the highest percentage. Also, Borders owes money: $41 million to Penguin and $33.8 to Simon & Schuster. If they can't pay that, publishers, and authors, will bear the burden. It's not looking good.
Maybe this is the beginning of the transition. Superstores like Borders and Barnes & Nobles will become unprofitable and book-browsing will be limited to whatever crap Target and Wal-Mart decide to put on their one-row shelves. And would either want to display your first novel there, Mr. No-Name-Writer? Probably not. If it's a near impossibility to get published now, imagine when publishers are even more afraid because of limited display space. This could end up affecting independent booksellers as well, just in case anyone was thinking this to be a surefire victory for them.
Whatever the outcome may be, I can't help but not like what's happening. I frequent the bookstore often. I can browse online at Amazon.com but nothing compares to being able to physically pick up a book, flip through its pages, and see if it grabs you. I go on Amazon when I want to see what the highest rated books are for a particular genre I like, or from an author I want to try out. But you can't deny those little known treasures which only make themselves known on the bookshelves. Even though I am reading more on my Kindle, sometimes I find myself still browsing the bookstore to find what interests me and THEN looking it up on Amazon. Even if I'm not buying from the place, the experience still plays an important part.
I am a firm believer that the physical book is not going anywhere. Or, at least, not anywhere too far away. I someday want to have a library of every book I've ever read, even the ones I read digitally. A nightstand with a single Kindle just doesn't look cool. But as for if 20 years from now I'll be able to walk the aisles with people who share the same love as me as opposed to those who just got lost looking for the detergent, I don't know. I hope so. Maybe virtual reality?
Your thoughts? Fears? Let me know.