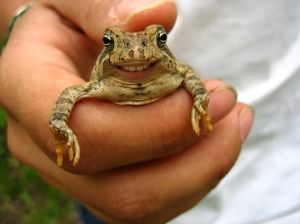 Anyone who has dissected a frog in science class knows that no matter how much you learn, the frog is gonna die. It's the same thing with comedy. We all know that if you have to explain a joke, it's already dead. But for our writerly purposes here, I thought it might be fun for me to deconstruct a joke I recently wrote in order to explore some elements of writing comedy. Some people say funny things at cocktail parties, some in stories they write, some even try open mike night at the local stand-up club. In my case, I prefer Facebook. Facebook allows me to write funny things in the status update section and then sit back and enjoy the reaction of four hundred of my closest friends as they comment on what I've said. Essentially, I have a captive audience. And then I'll often engage in the post-joke conversation in the comments myself.
Fun? No doubt. Egotistical? You betcha.
A few weeks ago I wrote the following post and comment:
Disclaimer: Just because I say I wrote a joke doesn't mean everyone will find it funny. Your results may vary.
Status update: I asked all those people what they were doing on my sofa and they said they were from OCCUPY MY LIVING ROOM.
1st Comment: It wouldn't have been so bad, except they keep hogging the remote.
In short, the idea was that I took a current event (that, regardless of your politics, you must agree was ripe for a little ribbing) and first of all I put them in what would have been the most absurd, nonsensical setting possible: my living room. Secondly, if you remember my post on funny words you'll see why I feel the word "sofa" is funnier than "couch." Structurally, too, I feel there is a rhythm to the expression "Occupy My Living Room" that is inherently funny.
The punchline, of course, was placed at the end of the sentence for maximum effect, essentially following the classic comedic structure of set-up/punchline. Remember, too, that comedy is the function of taking a reasonable and/or common place premise (a bunch of people on my sofa) and shattering the preconceived expectations (that they were family members or party guests, for example). Put another way, it would be very unusual to have an entire social movement relaxing on your setee (is that word funnier than "sofa?" Hmmm).
In comedy, if the crowd laughs at the comedian's joke and she wants to build on that success, she adds something called a "tag." The tag extends the impact of a joke by giving the punchline a depth and resonance. It often also catapults the joke into at least one more layer of absurdity. That's what I did by saying that the movement was hogging my remote. First of all, "hogging" is a funny word. Secondly, the idea of a huge group of people in a living room monopolizing a gadget that, typically, only one person uses creates a break in expectation that is funny.
It reminds me of a short story Woody Allen wrote where the main character breaks out of jail by hiding in a laundry basket. When he's discovered, he looks up at the guard and says, 'I'm some shirts." Why is this funny? Because 1) a person tries to get away with a prison break by pretending to be clothing, and 2) a single individual pretends to be multiple things. If he had said, "I'm a shirt" that would have been funny, but saying "I'm SOME shirts" is hilarious.
One final note about the tag: In stand-up, the comedian will wait a beat after the initial punchline to "tag" the joke, surfing the crowd's reaction and usually firing it off just as the laughter from the original punchline starts to die down. This beat creates a break in the spectator's mind that allows him or her to process the tag.
I always wondered why, if I tagged a Facebook joke, putting the tag in the first comment always seemed to work, and then I realized it's the "beat." The beat allowing the reader to understand the first joke literally occurs as his or her eyes come off the status update and are lowered to the first comment. At this point, they've processed the information from the first joke and are ready for the next punchline. As I was percolating on this blog post, I watched a teacher friend open a birthday card and realized the process there is the same: if you've ever received a funny card you know that the set-up is on the front and, after you open the card, you read the punchline. The physical act of opening the card creates the beat you need to be ready for the punch or the tag.
I shamelessly say here that Scribophile is also a great place to publicly massage my ego (which breaks several laws in The Bible Belt, I'm sure). Many of you have seen me write silly things in the forum posts and my reward comes when anyone clicks the "funny" button.
Pavlov's dogs have nothing on me, baby.
Your Homework: using the set-up/punchline/tag techniques you've learned in this blog post, write a funny line and post it somewhere: on Facebook, in a blog post, in an e-mail to a friend, or right here on ole Scrib. And then, report back to me on your experience via comment section, scratch pad, or private message. Have fun!