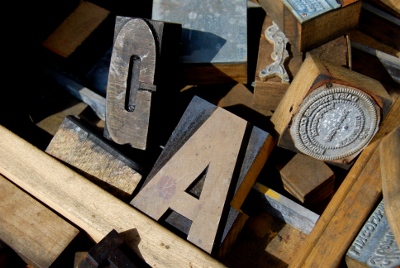 One of the toughest tasks that a writer can face is simply starting something. I don't mean coming up with something to write about; everybody has ideas—good, bad, weird and otherwise—and there's always the "ripped from the headlines" approach if your imagination is out on a truffle run when you sit down to compose. It works for Law and Order, right?
Anyway, the basic idea is usually not the trouble. It's simply getting started. Where do you begin when you have no idea where to begin? Starting at the beginning, or the "once upon a time" approach, is one way to go, if a bit literal, and it often works, but you may not be sure where the story really begins or who the characters are just yet. Another approach is to start in medias res, which is a Latin term meaning "in the thick of the shit" (warning: not a literal translation; my Latin's a little rusty). Using in medias res is a time-honored technique, but has been used so frequently in certain genres that you may feel like it's a tired device.
When I get stuck on how to begin, one of the things that I like to do to kick myself loose is to revisit works whose opening lines I admire most. The right opening line does more than introduce a reader to the action or the story; when done correctly, it can set the tone for the narration, indelibly mark the POV character in the reader's mind and set the narrative hook so deeply that the reader can't help but be moved along. Having the right opening line in a short story or poem can, in fact, be the make or break point; since those works are shorter, the writer has less space to capture the reader, so everything counts.
Now, you might be asking yourself, what does this guy think is a good, even great, opening line? Great opening lines arrest the attention, establish a universe almost before you reach the end of the sentence. I could expound on this further, but let me provide a few examples to further elucidate:
"X — This day when it had light mother called me retch." – Born of Man and Woman, Richard Matheson
"Tiger, tiger, burning bright…" – The Tiger, William Blake
"The sky above the port was the color of television, tuned to a dead channel." – Neuromancer, William Gibson
"And death shall have no dominion." – And Death Shall Have No Dominion, Dylan Thomas
"Call me Ishmael." – Moby Dick, Herman Melville
"Because I could not stop for Death…" - Because I could not stop for Death, Emily Dickinson
I could go on in this vein (there are many more examples I could think of), but let's just look at these for a minute. These lines have a few things in common, and although a great opening line doesn't have to share these characteristics, I think it helps. First off, these lines are fairly short: only Gibson's has a secondary clause (although Matheson's would if it were properly constructed, it clearly doesn't in the narrator's voice), and even that is brief and to the point. There's a certain rhythm to each line, which isn't surprising since three of them are poems, but even the prose openers have a beat to them. Read them out loud; Blake's and Dickinson's opening lines are particularly rhythmic, setting up a meter that the second lines fall into easily, and sticking in the memory all the better because of it.
More to the point, each of these lines establishes a reality and tone that is unmistakable. Matheson's may be the most obvious of these, given its unusual construction and clear first-person narrative, but each example goes about its work in a different fashion. Melville's opener is a classic, because it both establishes and hides the narrator's identity instantly. After all, he says, "Call me Ishmael," not "My name is Ishmael." It's direct, evocative and tells you something about the narrator right away. Thomas' first line is also rhythmic and evocative, but in a different sense; his opening salvo is in your face, defiant and demanding the reader's judgment. Gibson's opener seems almost drab at first glance, but it establishes a deadpan voice and noirish tone that establishes the cyberpunk universe before the narrator is even introduced.
Must every story have a great opening line? Probably not, but having one makes the writer's job a little easier. We've all read stories that started slow but improved, or were able to overcome certain initial flaws, but that seems like more work than you should have to do. A little investment on the front end can pay off narratively on the back end, so it's generally worth the effort to come up with a strong opening. As always, your mileage may vary.