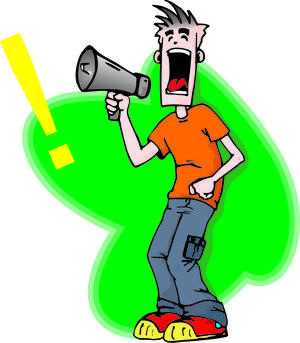 What you want to write isn't always what you should be writing. I learned this lesson early, when I decided that I wanted to write horror novels. It seemed an easy choice. I loved to be scared, and loved to scare. I enjoyed reading stories about ghosts, vampires, zombies, Hollywood Wives, you know, all the really frightening stuff. To test the waters, I wrote a few scary short stories. A creepy kid here, a possessed girl there, here a ghost, there a ghost, everywhere a ghost. I finished a few stories, then quickly sent them out to several respected horror magazines. Then I waited; then I was told my stories weren't very scary. What? How could they not be scary? I'm a huge horror fan! "There's too much humor in your supposedly scary stories," I was told. What had I done wrong? I'd set the mood properly, wrote my dark tales late at night, while the world slept, turned the lights low, put on scary movies for appropriate background screaming and moaning. I sure was scared while I wrote. What was my problem?
It was my natural writer's voice that killed me. I can't help but have at least a little humor in everything I write. I can't stop myself. It just happens. Even when I'm reading a scary novel, let's say Ghost Story by Peter Straub, I become so terrified that I start craving a laugh to break the tension. That's just me. When the suspense and horror get too great, I need a chuckle. Thus, I will never be Clive Barker, but that's all right.
So, you want to write romance novels, or historical fiction, or science fiction, or a witty memoir, or a young adult novel. Great! But have you thought about what you should be writing? What is your natural voice? Are you a romantic at heart who keeps having the protagonist in your romance novel solve murder mysteries? A science fiction writer whose main characters can't stop falling in love? A horror writer who's fond of slapstick? An historical fiction writer who's always fighting the urge to throw in a vampire? A comedy writer who likes to make stuff blow up real good? A memoirist who hates the truth? Well, if you are any of these things, chances are your natural voice is trying to tell you something.
Here's the big question: Should a writer stick with what they love, or go with what they're good at? In most instances, a writer is able to write in their preferred genre, while adapting the work to meet their needs. Nothing wrong with a mystery novel with humor; nothing wrong with a romance novel with a little mystery; nothing wrong with a horror novel with some romance; nothing wrong with a science fiction novel with an elaborate heist thrown in. Usually, a writer can meld their style to fit a specific genre. But not always.
I know of several successful writers who aren't major fans of the genre they're known for. Is this selling out? No, it's just putting your skills to their best use. If you're writing wonderful detective stories, even if you're not a tremendous fan of such novels, to stop would mean taking a joy away from your fans. Regardless, you must have at least some enthusiasm for your subject matter. If you're bored while writing, it's going to show in the finished work.
A different problem arises when a writer whose voice perfectly matches his subject matter: the horror writer who can easily and repeatedly scare the shit out of people; the romance writer whose words never fail to bring smiles and happy tears; the mystery writer who always keeps the reader guessing. When you're good at writing the genre you love, it's easy to stick with that genre, without taking chances. Sometimes, a writer needs to work in a genre they're uncomfortable or unfamiliar with, just to stay sharp. Even if the results are dreadful, it's the challenge that matters.
To write what you love, or what you're best at? If you're one of the lucky ones, it's a question you never have to consider. But if you're like me, and what you love most doesn't play to your strengths as a writer, the question always lingers. In the end, it'll all sort itself out. Your inner-voice will lead you down the right path. When your voice and your words meld perfectly, you'll know what's best for you. And please, for me, toss a joke or two into that horror novel you're working on.
Me? I'm still writing horror stories. They just happen to be fun, campy horror stories.