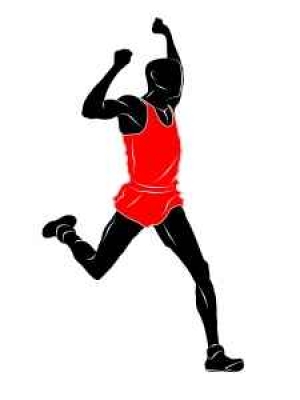 I must admit that I'm someone who loves a good writing contest. Why? Because winning is fun, and sometimes even profitable. I guess, for me, it stems back to when I was a kid playing football or kickball or even jailbreak. Winning is thrilling. There is forever a twelve-year-old inside of me eager for that same taste of victory I had as a child when catching that winning touchdown. To fight hard and come out victorious gives us a jolt, a thrill, a few moments to savor. Now that I'm older and probably not going to win any athletic contests, my quest for victory comes in the form of writing contests. Winning with your mind offers that same rush, although certainly doesn't burn as many calories. Contests do have their pluses and minuses, though.
The biggest downside of entering a writing contest is that it takes you away from your own personal work. If you spend a month fine-tuning that contest entry, it's a month you spent away from your work-in-progress. It's hard to finish a novel or screenplay when you're finding one contest after another to enter. Don't lose focus of who you are as a writer. Taking a break from your WIP is fine, but try not to get so caught up in contests that you barely look at your personal work for months. Do you really want to be a serial contest participant? Entering one contest after another, possibly losing touch with who you are as a writer?
On the positive side, often times contests offer a challenge you wouldn't have otherwise undertaken. Many contests give the writer a theme or genre to work with that they might not have even considered writing about. If you're someone who usually writes horror or literary fiction, and you find a contest that challenges you to write something funny, why not give it a shot? How would you know you couldn't write a humorous story if you've never tried? Or a scary story? Or a romance? Or a mystery? We should all step out of our comfort zones every now and again.
A writer should be picky when deciding which contests to enter. In this day and age, with the internet at our disposal, there seems to be an unlimited number of contests. Which ones should you enter? It depends on what you're looking to gain? Personally, I don't enter contests for monetary gain. Money is nice, but it's not what I'm after. Most of the contests I've entered of late have been screenwriting-related. My goal is to get my work read. If a contest offers me the chance to have my work read by someone who can help my career, generally, I'm in. I look for contests where the readers are producers or agents, people who could potentially read my stories and think there's a place for me in their world. It's all about exposure. If someone of note reads my work and likes it, nothing but good can come of it. So, what do you want? Money? The opportunity to see your work in print or on the big screen? Before you enter any contest, make sure to find what winning could actually do for you. Is it worth your time and energy? Figure our your goals as a writer, and only enter contests which can further you down that path.
What about fun? That's a big consideration for me. I would never enter a contest that I didn't think would be fun. I want to enjoy what I'm writing. If you're entering the wrong contests, chances are, you're not having any fun. If I don't think I'd enjoy a particular contest, I stay far away.
Cost is also something you need to think about. If a contest costs fifty dollars to enter, and the top prize is only around five-hundred bucks, you may want to reconsider entering. There are many, many contests out there that are free, or nearly free, to enter. Why pay big bucks to enter a contest when there are many other similar contests that cost almost nothing? Still, if you're a decent writer, your chances of making money through a writing contest is probably better than your chances of winning the lottery. Many writing contests might only have a few hundred entries.
There's no doubt that writing contests can help a writer get his work seen. Writers who win major contests get publicity. A few years back, I was one of the winners in a script-writing contest, and within a week found myself being interviewed by two major newspapers. Also, it's always nice to show your friends and family that you're on the right track.
I would suggest that all writers try their hand at a contest now and then, if for nothing else than to simply improve their writing. Just make sure it's the right contest. Do it for the right reasons, and never lose sight of what kind of writer you want to be. And always have fun.