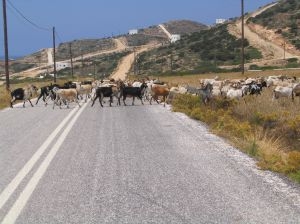 Writer's block. We all struggle with it (unless you're some writer's block immune commodity who has never known what it's like to sit and stare at the computer screen for hours, in which case: I hate you). And we all have to get through it if we want to be published, or even just finish that story we've been working on for the past year.
There are many things that constitute writer's block. A lack of ideas. A lack of motivation. A stall in a certain, difficult part of the narrative. That time when the sentences just don't come like they usually do. A goal of days to finish a story can turn to weeks, weeks to months, and then, before you know it, you've moved on to something else. So what can we do about it?
We start with an idea. No idea, no story, right? If you're having problems coming up with ideas, it may be beneficial to acquire a pocket notepad, take a few days, and jot down interesting things happening around you, and ask yourself 'what if'? Recently, my wife and I had to give up our two-year-old dog to the dog pound. He's a very loveable, playful chichuahua-mix, so we knew he'd be adopted quickly, but I couldn't help but thinking 'what if'? What if, for whatever reason, they had to put him down? How much would it haunt me? And then, taking it a step further, what if it actually did haunt me? Canine ghost story, just like that. Simple things work, too. Subway train gets stalled in the tunnel: what if there's something seriously wrong? What would happen with all these people stuck in one train car? A man drops his wallet on the street. What can you do with that? Jot down anything that pops into your mind and when you sit down later to sort through them, you might find a gem.
Maybe you already have your idea, but just don't know how to start. There's so much to do in building your character, establishing setting, etc, etc, and it's just a little overwhelming. Try this: whatever scene you originally imagined when you came up with your idea, start with that. Even if you think it will be in the middle of your story. You should find that the words will come easier when starting with a scene you're really, truly interested in, and you may even find that it was a better starting place anyway.
In the same light, don't be afraid to jump around when writing a story. It happens to me all the time. As I'm writing, a scene further down the line pops into my head, and it's so vivid I can't help but skip to it and get it down on the page. This is fine, and even encouraged, because when you go back to fill in the gaps, it'll be easier to write because you'll have a good idea of what the narrative is leading up to.
Sometimes you just have to trudge through the rough parts, though. You'll inevitably have moments of 'shitty writing,' where you think what you're putting down on the page isn't worth the lead it's written with. If you've already done all the skipping around you can do and you still feel this way, then you just have to suck it up and trudge through. Set a time aside where you can do nothing else but work through that part, and write it, no matter how terrible you think it is.
And then there's procrastination, a different beast. For a lot of our modern-day procrastinations, the computer is to blame. Gone is the time when most writers went with paper and pen (I've tried it, recommend it, but warn that typing it up after is a bitch), and now our writing utensils aren't just for stories: they are procrastination machines. Try designating a particular area as your 'writing spot' and make a list of rules for whenever you sit there to write. Unplug the ethernet cord, turn off your Wi-Fi, power off your phone. For those of you who have the money to spend, I'd recommend considering a separate computer only for writing, if you find it truly hard to resist the pull of the Internet. I actually think I'd pay for a laptop which allowed me to do one thing and one thing only: use Microsoft Word. Ah, if only...
I have most of my procrastinating moments when I take pauses. I stop to think about what I want my next sentence to be, and I instinctively switch my screen to another tab (the Internet, most likely), or pick up my phone. If you do this as well, recognizing when you do it is key, because getting rid of things like the Internet and your phone may just lead you to fill those gaps in other ways. Try adopting a productive habit to turn these pauses into a positive, like reading over a previous passage, or skipping around. Experiment with different things instead of just letting the time get away from you.
At the end of the day, getting over writer's block is about writing. Don't get stuck for days on one story or one scene when there are hundreds more ideas you're holding yourself from progressing towards. Do what you have to do to get words on the page. And, if something really just isn't working, don't be afraid to move on.
What are some of the ways you combat writer's block? Procrastination? Idea-stealing aliens? Please share.