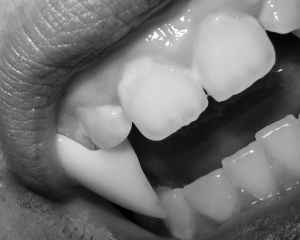 Do you really want to write a book about vampires, or do you want to write a book about vampires because everyone else is doing it? There are many things I've wanted to do because all the cool kids were doing it. Smoke a cigarette. Climb a really high, unsafe brick wall. See a grown woman naked. Sneak in to see Risky Business when I hadn't even hit puberty. Ditch school to get drunk and catch a Beastie Boys concert. Stalk and kill a random person I found in the phone book (okay, maybe not that last one). Yes, I've often yearned to be popular, and done many a stupid thing. When it comes to writing, it's hard not to look at what's selling and think, "Hey, if I write a vampire novel right now while the genre is popular, maybe I'll be cool like Stephenie Meyer and Charlaine Harris. Should I throw in a werewolf, too?" When you look at the numbers, and realize that more than 15% of all books sold in 2009 featured vampires, well, the urge to cash in can be hard to resist.
Truth be told, I have written about vampires, but only because I love vampires. I loved vampires when I was five; loved them when I was fifteen; loved them when I was thirty. I would never write about bloodsuckers because I thought it would be easy to sell a story about them. I would write about vampires because 'Salem's Lot was awesome and it changed my life. Write about vampires because you've got a great story to tell, not because you've got a great story to sell.
The problem with popularity is that what's popular today might not be what's popular tomorrow. When you finish your vampire novel a year or so from now, there's a good chance that vampires will be yesterday's news. In a year, mummies might be all the rage, or goblins, or leprechauns, or succubi, or babies, or gladiators, or dead presidents. Sure, there will always be stories about vampires, both bad and good, but vampires aren't always going to light up the cash registers. Don't follow trends. Start them. You want to write about flappers? Do it. Next year, everyone might be following you, writing flapper detective stories, flapper love stories, flapper serial killer stories. The flapper genre is completely untapped. Go for it.
Of course, you may be curious about the latest trend, and read a popular book, then think, "I can do better." Nothing wrong with that. Dan Brown has sold millions of books. John Grisham? Millions and millions. Stephenie Meyer? You guessed it: millions (Vampires!). Mitch Albom? Oh yeah, millions. What do these writers have in common? No one is going to confuse them with Hemmingway or Salinger. What they do incredibly well, though, is write entertaining, mass-audience books. John Grisham has spawned many imitators, and I'll bet more than a few of those imitators read a Grisham novel and felt like they could do better. Although, very few succeeded. If you do begin a novel in a popular genre because you think you can write a better book than a popular author, be careful, it's not as easy as it looks. By all means, though, give it a try. Just wait until my Boy Magician series comes out. It's totally going to rule.
But whatever you do, stick to what's in your heart. Write what excites you, what thrills you, what will bring you back to your computer every day, eager to begin the next chapter. If you're sitting down to work on a story, and you don't feel that wave of excitement pass through your fingers, chances are, you're not writing something you're passionate about. If it's a struggle, if it feels like work, maybe you need to scrap that story and start something new, something that makes you smile.
A writer should always be thinking about what their particular story is going to add to the genre, especially if it's a popular genre. That vampire book you're writing: What's new and fresh about it? What's your angle? What's going to make other writers of vampire literature wish they'd thought of your idea first? If you feel compelled to write within a currently-popular genre, bring something fresh, contribute, don't copy. There are untapped stories in all genres, great stories left to tell.
Popularity is fleeting, good writing is not. Avoid the temptation of following trends. It's certainly good to know your market; book publishers certainly do. Still, the most important thing is the writing. If you write an amazing book, regardless of the genre, people are going to want to read it. Even if there are no vampires.