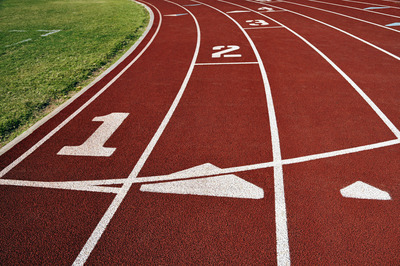 I'm a very active member of the Livejournal writing community. People there are very creative, intelligent, funny and sometimes slightly disturbing. As you can see, they're very much like you guys. The biggest difference between you all is the fact that the LJ bunch writes mostly fanfiction and you lot prefer original fiction.
Why do I mention it? I've recently signed up with a community called Find Your Words. It's a community a little like Scribophile's circles. Writers sign up and set up a goal, most commonly a word count, to be completed by the end of the year (the sign-ups closed on Jan 31st, sorry). Every week there's a status post where you report your word count for the week. I've also signed up for a challenge to write a fanfic story of 20000 words or more by the end of April--which alone is twice the number of words I've written last year.
To be perfectly honest with you, at first I seriously questioned my mental health. For the last six months I've been writing strictly non-fiction pieces, concentrating on articles, blog posts and press releases – all short pieces, averaging 500 words. And suddenly, I commit to writing a 20K long story due in May and another 40K of fiction due in December. Can you see why I started to doubt my sanity?
But in the past two weeks, I've written almost 3000 words, and by my standards, that's a lot. So maybe signing up for an "insane" challenge was the best decision I could have made...
Every November, people all over the world go on a quest to write 50000 words within one month. It's insane and more exhausting than anything you can imagine. But a lot of people manage to reach the goal. Many end up with more than the magical 50K.
Every month at Scribophile, people create incredible pieces, written specifically for Scribophile's contest. And even though there's a prize involved, I don't think that's the only reason why people submit their work.
Why are all those challenges, contests and insane (and dangerous to your mental health) Writing Olympics so effective? I have a few theories.
Firstly, despite being free spirits, writers sometimes like to be told what to write. Let's face it. When you're being surrounded by blood thirsty plot bunnies and your muse is firing ideas at you with the speed of AK-47, it's almost a relief to have someone else put their foot down and say: "Enough. Get yourself together and write THIS." And when you're suffering from writer's block, it's so easy to get back into writing if someone asks you to write them a flash piece (though you might end up writing about pink mice and elephants - never agree to write anything when you're not entirely sober).
My second theory is that writers can be very competitive. On their own, they might be lazy and not very eager to finish their story, especially if it's giving them problems. But when faced with other writers completing chapter after chapter, reaching word count goal after word count goal, something clicks and they start writing, blackmailing their characters into submission, because they can't be out-done. True, this is not the healthiest approach and it might be best to compete against writers from similar backgrounds (with similar among of free time, family obligations and drive for writing).
Another of my theories is that each and every writer is highly insecure about their writing, and getting praise on a regular basis does miracles not only for the writer's self-esteem but for their writing as well. Therefore reporting progress on a more or less regular basis and having people commenting on it, congratulating you or giving you feedback, can be a great motivation for writing more. Not to mention the fact that if your readers are in the loop and kept up to date with your writing projects they have time to get exited about stories yet to come. I know it both as a reader and as a writer. I'm writing the 20000 words fic I've mentioned before with constant help from two of my readers who can't wait to read it. They are the only reason I write every day, I want to have something to show them at the end of the day. I'm also a cheerleader for two of my friends, also writers, and they say they owe me a lot of coffee for all the help (which I'm collecting on a weekly basis).
I have two other theories saying that writers are "attention whores" and are ready to "whore themselves for feedback" and that's why they join various challenges, contests and writing events. But seeing as those hit too close to home, verbalizing them would mean admitting I have a problem... (This paragraph is sponsored by the letter D, as in Denial).
So I know why I'm joining various challenges and contests. To get extra motivation to write at least 60000 words by the end of the year. What about you? What makes you submit stories to Scribophile's contests and sign up for NaNoWriMo? And if you were to set up a word count goal for the rest of the year, how high would it be?