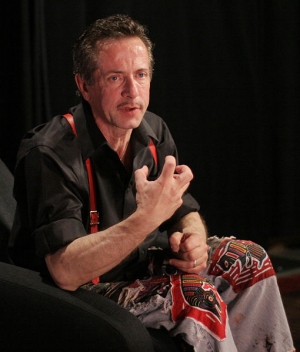 If you asked Clive Barker his profession, he'd call himself an imaginer. I'd be inclined to agree with him. I was recently introduced to Clive Barker the novelist, and was so enthralled by his writing that I sought out more information about his life. Of course, this meant googling him and reading his Wikipedia page. I was surprised to find that he created Candyman and Hellraiser (for some reason, I used to think that Candyman was a monster that had no one creator, like the boogeyman...but that could just be because I'm young) and, even more, that he actually directed Hellraiser himself. He's also an artist, a playwright, and a photographer. Clive Barker isn't simply a novelist, he is a person who creates. And for that, I've come to appreciate his writing even more.
Barker's first novel was Damnation Game and, fittingly, the first book of his that I have read. Overall, it was well done. Barker likes to develop his characters, set the scene, and provide the reader with moments of deep introspection. This means the plot can be slow at times. Yet, in the end, everything feels like it had a purpose. The book reminded me a lot of Neil Gaiman's American Gods. The protagonists in both are similar: ex-cons who recently lost the woman they loved (one way or another) and now find themselves in a world of magic. They also both have the same nonchalant outlook on life, as if nothing can get much worse than their current state of being. Barker's character actually has more moments of emotional vulnerability, but the trait still stands, and it allows the reader to digest fantastical elements a little easier.
Some parts of Damnation Game get really twisted. One of the characters calls himself the Razor Eater and has a habit of making little girls in to delicacies. During some of the more frightening moments of the novel, Barker flexes his descriptive muscles. These scenes are especially well without being over the top. And they are spread out enough not to numb us to their bite.
When reading Barker, make sure to have your dictionary handy (if your name is Justin Key, that is). The guy uses words I swear I've never seen before! He has the kind of grasp on the language that I strive for. Although he uses advanced vocabulary often, it doesn't feel like he's showing off or going out of his way. Instead, you get the sense that he is so in-tune with the English language and its large library of words that he can pick exactly what's needed to express the idea/imagery he's trying to convey. The way it should be.
I've started a second book of his, Imajica, and both it and Damnation Game use third person omniscient. And he really makes use of the 'omniscient' part. I don't think there was one semi-major to major character in Damnation Game who I didn't get a tour of his or her thoughts at one time or another. It was interesting, because in my writing group we make sure to mention inconsistencies in point of view in our critiques. Most people talk about how you shouldn't change points of view in the same chapter, others stick with the belief that the whole book should just have one. While Barker establishes main characters, he's switching between people's thoughts constantly. It's a little jarring, given what I hear other writers advise, but honestly I think it work. It is nice to see exactly what the bad guy is thinking as opposed to merely the good guy's best guess.
Having a lot of characters' mind open for the viewing means a lot of opportunities to explore humanity, and Barker takes advantage of it. He's especially fond with the topic of sex, which he stated in an interview. In both Damnation Game and Imajica (especially the latter) sex is presented as something powerful, and in some cases even a sort of ritual. In Damnation Game a wizard (for lack of a better descriptor) is overwhelmed when he tries to enter the mind of one of his subjects while she engages in intercourse. In Imajica, an alien assassin shape shifts and uses sex to heal one of the other characters. I haven't gotten to his other works yet, but I know he has a book or two that deals heavily with the dreamworld and the subconscious.
He makes all of his characters flawed and that makes them more real and, in a way, more likable. On the other hand, even the villain in Damnation Game had his emotional weaknesses that made him human (well, sort of human). It is obvious the man puts a lot of himself in to his writing. And a lot of time, too.
Speaking of which, I must mention the rigorous schedule that Clive utilized during the creation of Imajica. He claims that, over a period of 14 months, he wrote for 14-16 hours a day, seven days per week. Wow. While I don't think that one should take that to mean they can't achieve success unless adopting such an extreme routine, it is refreshing to hear of someone who puts so much passion in to his work. And, as I've pointed out, it shows. Imajica has an appendix, a glossary, and full illustrations. I am not that far in to it yet, but I can already tell that the world he's created is massive. And coherent.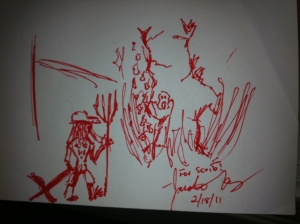 As I mentioned before, Barker has directed movies, written short stories, novels, and plays, and is a practicing artist. It is inspiring to have someone so devoted to the imagination and to see what can result from it. I think we can agree that, as writers, we enjoy creating. Characters, worlds, sentences, scenarios, etc, etc. If we had the talents, I'd bet few of us could ignore the ability to augment our writing with other forms of creation. Clive Barker has those talents and he utilizes them to the fullest. In fact, I couldn't help but be inspired to try my own hand at drawing. To the left is my first piece, and probably my last :P. Who knows, though, maybe a short story idea will become of it....?
For your perusal, a few Clive Barker Resources: