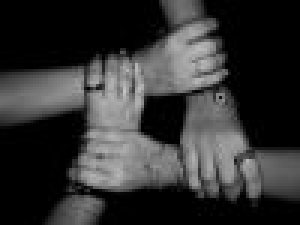 Until recently, I had never collaborated on a writing project with anyone, unless you count my dueling Gemini personalities. I've always viewed writing as a solitary process. Me, alone, with my laptop and my thoughts, in charge of every word, every plot point, every character, making every crucial decision. I had always marveled at writers who were able to collaborate and do it well. I've read books where different chapters were handled by different writers, and that I could certainly fathom, as one writer just picks up where the other writer left off. No problem. But working together on every chapter, every sentence, every word. Madness!
Lately, I've been doing a bit of collaborating, and slowly I'm figuring out the process. The key is talking and plotting together before the writing even begins. If two minds are on the same page before a word is written, everything becomes much easier. Currently, I'm collaborating on two different projects, and the process is much different for each.
The first collaboration is on a horror web series where I'm working from the director's treatment. This form of working together is easier for me. The director simply sends me a rough outline for the story, then I write the script. Of course, once I finished the script, the director had different ideas about how I interpreted his ideas. So, the hard part comes in the rewriting process. It's taken several drafts to meld our visions. He wants one thing, I want another. Ultimately, the story is his baby, and I have to defer to him. I have to give him what he wants, while still trying to fight for the parts of the story and certain characters that I feel are needed. We're getting there. I want to make the director happy, but I need to be happy with the finished product as well. It's hard, but not impossible. I write, he sends me notes, I write some more, he sends new notes on each draft, and finally, maybe, we're both reaching a point where we're starting to see something special evolve from this collaboration. We're working from different cities, communicating through e-mails and phone conversations, but it's working, I think. We both realize that the goal is to create something special, so we've both willing to give a little to ensure the final product is great.
The other collaboration I'm involved in at the moment is more difficult. I'm helping a friend with a screenplay, and this particular friend has very little writing experience. So, when it comes to style, formatting, dialogue and such, I'm definitely the one in charge. But the story itself is both of ours. I'm always tempted to take total control of the project, but I want my partner to learn the craft, to create scenes without my assistance, to not count on me quite so much. I want my partner on the project to blossom, and the great thing is, I see her work improving. After each writing session, I see my partner's work getting better, and notice a growing confidence. Still, working together, in the same room, laptops side-by-side, is something that makes me slightly uneasy. We tend to pick apart each other's dialogue, while trying to be as nice as possible. But each session does get better, as we learn each other's strengths and weaknesses. I don't know if the project is going to turn into something special or not, but the process is teaching me a lot. I'm learning about patience, and figuring out what's important to fight for, and what's not worth the trouble. Collaboration is about tiny battles, about give and take, about allowing yourself to let go and just trust the other person. So, yes, I'm learning, slowly.
Even if these projects don't turn out to be the wonderful pieces of art I'm hoping for, I know I'm growing as a writer because of them. I'm learning by listening and accepting criticism, learning to trust my instinct, and also learning that not everything I write is a gem. It's hard to hear someone say, after you've written something you believe to be wonderful: "No, I don't like it." It's like a slap in the face. But as the collaboration continues, those slaps in the face start to feel like mosquito bites, then, eventually, they feel like soft pats on the back. If the other person doesn't like what I've written, maybe they have a point. Maybe I can do better.
I recommend that every writer collaborate on a project at least once in their life. You'll discover a lot about yourself as a writer, both good and bad.
Still, collaborating is hard. But it's getting easier.
I wonder: all of you out there who have collaborated on a project with another writer, how did you make it work?