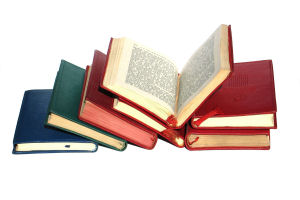 We've got some great entries for the March poetry contest. Read them and rate them, because we take your ratings into account when deciding on a winner! The entries, in no particular order, are:
Pink Peach Tree In Blossom, by Brittany
A Little Birdie Told Me, by Rusti Fae
We'll announce the winners by April 7.
With the March contest closed, we're firing up the April contest. The format for the April contest is flash fiction (works of 1000 words or less), and instead of suggesting a theme, we're going to leave it totally open. Write about whatever your heart desires—just keep it under 1000 words! More details will be available soon on the front page.
We're also excited to announce the Critiquer of the Month for the month of March. And the critiquer is… drum roll please… Amber Lynn! Amber's been busy this past month—just look at any of the 49 smart and insightful critiques she's written! Not only is the sheer volume of criticism impressive, but each critique is packed with helpful advice and line-by-line analysis. If you've benefited from one of her comments (and even if you haven't yet), check out her writing and return the favour!
While you've all been busy writing, we've been busy coding. In this past month we've released draft and critique tracking, added a "Latest Critiques" section to profile pages, added a list of works from authors who've critiqued your writing in My Desk, added a "Browse Authors" section, reduced advertising for our Pro members, created some critiquer accountability by allowing low votes to affect karma, and made some loading time improvements that hopefully make your time at Scribophile go by a lot smoother. Many of these changes were the result of direct feedback from you, the community—so remember to keep us up-to-date with whatever you'd like to see!
We'd also like to take this opportunity to announce a new policy. We here at Scribophile read a lot, and reading takes effort. We've noticed that sometimes writers from the US will spell certain words or use certain colloquialisms differently than writers from the UK or from other countries, and vice versa. Every time we stumble over one of these differences, it slows down our reading experience and we become a little less productive. Since our authors hail from all over the world, we've decided to implement a new policy to enforce a standard of spelling and slang across all of the works on the site in the interest of making everything easier for us (and you!) to read.
We've reasoned that since the English language was born in England, it's only fair that we use the Queen's English as the official language of Scribophile. To those ends, effective immediately, all works, critiques, and forums posts on the site will have to adhere to British English spelling standards.
For example, here are some common spelling differences between American and British English that you'll be expected to now adhere to:
"color" must be spelled as "colour"
"mustache" must be spelled as "moustache"
"aluminum" must be spelled as "aluminium" (tough to remember but essential)
"mom" must be spelled as "mum"
"specialty" must be spelled as "speciality"
Words ending in –ize must now end in -ise
This is my no means an exhaustive list of spelling changes, but should give you an idea of the kind of standards we'll be enforcing. We'll leave it up to you to find and correct misspelled words in your already published works and critiques.
This policy also includes words that in American English may be totally different from British English. For example, you will now be required to use the correct terminology in the following cases:
"zero" becomes "nought"
"television" becomes "telly"
"trunk" (of a car) becomes "boot"
"my two cents" becomes "my tuppence worth"
"college" or "school" become "uni"
"trash" becomes "rubbish"
"thanks" and "goodbye" become "cheers"
Any references to the Atlantic Ocean become "The Pond"
Again, this isn't an exhaustive list, but is only an example. If you're not sure which words are different in British English, we suggest taking a trip to London. It's quite nice this time of year. Due to space and time constraints, we're unable to post a list of words that you'll be expected to know, but be sure that we know them ourselves and will catch you if you flout this rule. Ignorance is no excuse!
Please also note that all times in your works should also be expressed in 24-hour time, as is common in England and the rest of the world. For example, instead of writing 5:00pm, you would write 17:00 (or seventeen hundred).
Keeping spelling and slang uniform by carefully following this new standard will make for a closer-knit community and will make it easier for us and for readers around the world to read your works on Scribophile. We hope that this new policy makes reading works a much easier and smoother experience for everyone.
Please note that we'll be actively enforcing this policy, and it is not optional. We will subtract karma points from any user found to still be employing American English spelling or slang in their works or posts from this moment forward.
If you notice anyone still using American English spelling, please let us know at once so that we can take the appropriate measures. And you'll be rewarded with a few extra karma points yourself for enforcing Scribophile's exacting standards!
Cheers from all of us at Scribophile, and happy April Fool's!