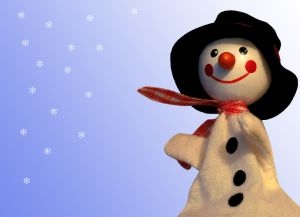 When holidays roll around, people usually expect writers to pony up with something creative for the holiday mailing. I know that I feel like a failure if all I send out is the typical Hallmark greeting card with a lamely scribbled signature. I want to share my writing creativity with my friends (some of whom I only touch base with at Christmas), and I really dread when I get newsletters from people that go on and on about what they did during the year.
So, I usually try to compose a poem or something strange, weird, or slightly humorous in order to compensate for any boring, year-roundup details I might feel I need to include. Now, the problem with this is often that I put off the writing of this holiday missive until...well...after the holidays. Here's my rationale: everybody tries to get their cards out before December 25, right? And then you get a slew of mail in the weeks leading up to Christmas. The poor postal workers (and my dad was one, so I know) are inundated with glitter-encrusted envelopes and bulky catalogues, breaking their backs daily with the paper load.
I feel it is a kindness for me to be tardy. I save those poor postal workers' backs, and the added bonus is that if you get a card from me after Christmas, it's so much more...unexpected. Unusual. Exotic. I also like to think of the scrambling more organized people do when they get a card from me and realize they didn't send me one. This might be why I often get cards that aren't actually holiday cards at all. "Thanks for being a friend," read one card last year. The person had drawn holly on it, but I knew it wasn't really a Christmas card.
But what did I expect? I was late. Honestly, it's probably not good form to send all my greetings after Christmas, but I like getting cards after December 25. I can enjoy them at my leisure, read them, and the novelty of receiving a lovely card on January 2nd is sort of sweet! Plus, it's a great excuse for me to get rid of all those "free" Humane Society cards with teary-eyed puppies. If you draw antlers on them, they look just like reindeer.
As a sweet treat, here's last year's tardy holiday poem:
'Twas the Poem After Christmas by the incredibly late Laura Preble It's a day before Christmas, and I'm finally composing a message to loved ones who are likely supposing I've forgotten to send any greetings at all! But the fact is, I've simply not been on the ball. I haven't forgotten; in fact, it's been nagging my conscience as last-minute gifts I've been bagging. I have no excuse, no really good reason; I can't even blame the chaos of the season. The fact is, I'm daunted by how to express how much I miss people I love in this mess. The economy's tanking, people are sad, homes are foreclosed on and moods are quite bad. Like the Whos down in Whoville, no one can believe They've lost the roast beast or the gifts they'd receive. It just isn't like Christmas in so many ways As the nights just get longer, and shorter the days. As I sit here in jammies and slippers and ponder on all the bright holidays past, I must wonder that gifts like friendship and family and hope cost nothing at all, but they sure help us cope with the craziness life seems to dish up right now. So I wanted to thank you for being somehow a part of my life – whether distant or near I want you know that I hold you so dear and I have a good reason for the lateness of this letter: I wanted to make this poem just a bit better!
Long live the figgy pudding!