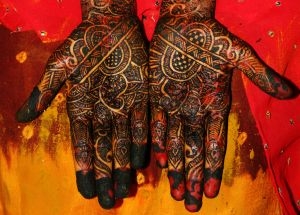 The first time I attended a writing conference, I was nervous. Actually, I was scared. I truthfully got to the hotel and contemplated hiding in the bathroom. (Which isn't a bad place to hide, really; everyone eventually goes in there.) I did eventually come out, though, to face my meeting demons.
At many of these events, you can pay extra to meet with an agent or an editor. I did this the first year, which was a huge mistake and a waste of cash. My first agent meeting is seared in my brain. It was with a high-powered male agent who was with Writer's House, a large agency. It was just a cold pitch, so he hadn't read any of my material. It was simply ten minutes to convince this guy that I was worthwhile, sort of like professional speed dating. I believe I made words, but I don't think they made any sense. I know that I stared at his fuzzy, balding head and felt very sweaty. I babbled a lot, and the ten minutes was up within what felt like nanoseconds. At the end, I desperately looked at him and said, "Can I send you something when I'm finished?" He nodded, already searching the hall for the next writer, and handed me a card without really looking at me.
Needless to say, that never panned out.
But the next year, I met with an editor. I had sent her ten pages ahead of time, and so we had something to talk about. Over that year, I had come to an important realization: in many ways, these meetings are a lot like dating. You present your best face, you project confidence, and you hope for the best. The single most important thing I learned, though, was that you have to detach from the outcome.
When I met with editors and agents in a state of desperation, they knew it. When I wanted to be published so badly that it oozed out my pores, they knew it. When I came prepared for any outcome, and didn't particularly care what the outcome would be, they knew that, too.
As writers, most of us want to be recognized, read, encouraged, and admired. We want to stand out in a crowd, and most of us crave the writing life. We want to write and do nothing else, except maybe some book signings and a television appearance or two. We fantasize that our day jobs will fade away and we'll be able to live the life of the mind, working in our jammies with coffee whenever we want.
That's a noble goal, of course, and I'm not going to lie: I'd love to live that life. However, if you keep that goal in mind to the exclusion of all else, it assures failure. I'm sure some people won't agree with me on this; they'll say that tenacity is everyting, and that if you want something, you have to fight for it. I'm not saying they're wrong. They are wrong for me, and possibly for you.
I know that when I expect a certain outcome, I am almost always disappointed. If I am open to whatever happens and trust that the outcome will be the right one, I am not only happier and healthier, but I open the door for the right opportunity. Sometimes this feels bitter and disappointing, no doubt; when my balding agent was obviously uninterested, I felt rejected and sad. I cried. But years later, I've realized that this was a good thing. I eventually found an editor and agent who appreciated my work and shared my vision.
That bald guy was not right for me. No amount of wishing would make it so. Once I relaxed and let go of expectations, things started to work. It's not always easy, but I think it's best. What do you think?