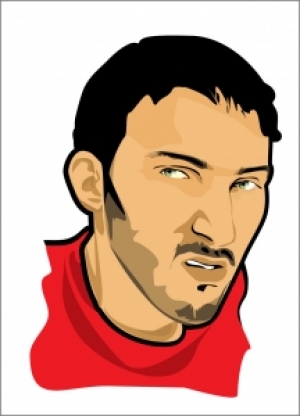 See that guy to the left? The jerky-looking cartoon fellow? Don't be him. He's The Angry Writer.
Freelance writing is not for everyone. For instance, freelance writing probably isn't a good idea for bad writers. You've got to be good or else no one is going to hire you. Well, they may hire you once. Once. Although, you might be able to get away with a bit of bad writing if you write like a machine. "Geez, the work was pretty lame, but he sure can make a deadline!" If someone knows that you're always on time with your work, and there's a project due yesterday, you might just get a call even if you aren't exactly their first choice. Still, bad writers rarely make successful freelancers. Conversely, if you're a great writer, but a slow writer, you might have a hard time securing future work. Slow writers often turn in lovely, note-perfect projects, but rarely meet deadlines. "My goodness! This article on 'The Joys of the Christmas Season' is fabulous. What a shame it's March now. If only we'd received it in December, when it was due. Pity."
The worst freelancers, though, are what I like to call "jerks," because they are jerks. They complain about deadlines, they complain about length, they complain about payment, they never let the person who gave them the job rest. If you're a successful writer selling hundreds of thousands of books, by all means, be a jerk--you can probably get away with it. But if you're a freelancer trying to make a living, trying to secure future work, trying to gain positive references, jerky behavior will be the end of you.
Half of freelance writing is the work, the quality, your ability to do the job and do it well, to be a dependable, excellent provider of wonderful words; the other half is building a base of people willing to pay you for your work. People must like working with you; people must not dread giving you a call; people must want to work with you, people must hear good things about you from your previous clients.
So don't be an asshole.
I am someone who is slowly but surely acquiring better, higher-paying assignments. How is this accomplished? By being good, and keeping my cool. Recently, I came in 2nd place in a writing contest. It sucked not winning, because the people running the contest claimed that they couldn't decide between the top two stories. Weeks passed. "We just can't choose between these two terrific entries." Essentially, my story and the other story were both good enough to win. The 2nd place prize: Nothing. Winning was everything.
Well, I didn't win. Maybe my story just wasn't as good as the other story. Maybe they flipped a coin. Who knows? What did I want to do after losing? Write an e-mail and say, "Come on! I was so close! You've got to give me something!" What did I do? Nothing. I thanked them for the opportunity. I was nice, I was gracious, I accepted my loss and moved on. A few weeks later, the people that ran the contest sent me an e-mail and offered me a short-term writing gig for a great deal of money (a great deal of money for me, anyway). Granted, it would be hard work, but I was thrilled to be offered the assignment. They gave it to me because I came so close to winning the contest, and they saw that my work was of a certain quality, and because I was gracious. If I'd been a sore loser, there's no way they would have offered me this great gig. The other benefit is: If I do exceptionally well with this assignment, and everyone is pleased, I can almost guarantee myself more high-paying work.
Nothing I can tell aspiring freelancers is more important than this: Be great, and be gracious.
Editors talk. Maybe they talk like this:
EDITOR ONE: "I have this client who's quite the talented writer, and he's good with deadlines, but…"
EDITOR TWO: "But what?"
EDITOR ONE: "Well, he's a big-time douche. Just awful to work with. Like a breathing Black Plague. Talking with him makes me want to bash my cell phone over my head."
EDITOR TWO: "That bad, huh? So, you wouldn't recommend him?"
EDITOR ONE: " For you? No. For a colonoscopy gone horribly wrong? Sure."
Simply put, you have to treat people with respect. If someone doesn't treat you with respect, sure, defend yourself. But kindness will get you far. Kindness will get you work. Jerkiness will get you standing in the unemployment line, wishing you'd treated people better.