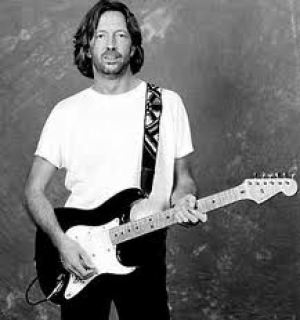 Always a writer at heart, I kept a journal in the late 80s while pursuing an ultimately non-existent acting career in Los Angeles. As a reminder of the importance of studying my craft as an actor, I once copied a quote in my journal from Eric Clapton's song "I've Got A Rock and Roll Heart."
It said:
"Don't need no glitter. No Hollywood. All you gotta do is lay it down If you lay it down good."
Eric Clapton's quote kept me grounded during those years as an actor. And yes, sporadically attending Mass at St. Charles Borromeo in Studio City probably didn't hurt, either. But Clapton reminded me that if I focused on my craft and put out the best work possible, then success—however I measured it—would find me and not the other way around.
It would have been easy in the self-centered and substance-fueled 80s, to succumb to the glitz and glamour of being part of "The Industry." It's not like I was on the A-list. I wasn't attending parties every night, cruising Sunset in my convertible BMW, or hobnobbing with celebrities. But I did experience a handful of Entertainment-related events that were heady enough to overwhelm a boy from San Diego's less-than-urban East County.
Similarly, I could have easily accepted the shallow and egocentric posture that Billy Crystal satirized in his impersonation of Fernando Llamas on SNL ("It's better to Look Good than to Feel Good"). Many of my acting brethren did. In fact, for some of them, it wasn't so much an approach, as a religion. But I knew there were pursuits more important than getting a star on Hollywood Blvd. or being the opening story on Entertainment Tonight. Make no mistake, I wanted those things, too, but I knew they were only props handed out serendipitously and often had zero relation to the quality of the work.
The same is true with writing. As writers, we are all on the hunt for some kind of audience. We want validation through money, fame, popularity, maybe even wildly affectionate groupies (if you get my drift). But the importance of the work--the zen practice of attempting to write the perfect sentence, structure an airtight story, or revise a paragraph until it sings—can sometimes be lost if all we pursue are the outward trappings of success. If that's all we are after, then even if we reach those peaks, we risk feeling fraudulent afterward, hiding inside our shell with nothing to show for our work but a glitzy façade. To burden the metaphor further, if all we are interested in is the brass ring, we miss the ride on the Merry-Go-Round.
I recently read an interesting quote in a book about generating abundance in one's life. It said, "Take care of the inside and the outside takes care of itself." This philosophy also emphasizes the importance of working on the heart, mind, and spirit, as well as focusing on the work and the craft, before worrying about what will happen after. If the work is good, the result (publication, fame, money, whatever your goal) will take care of itself.
So I encourage you to focus on your craft. Try to do it right. Better. With more precision and clarity. Then let success take care of itself. Over twenty years after scribbling his lyric in my journal, I still think Clapton's right: All you've got to do is to lay it down, if you lay it down good. And when you see how Clapton lays it down, you can't really argue with the man.