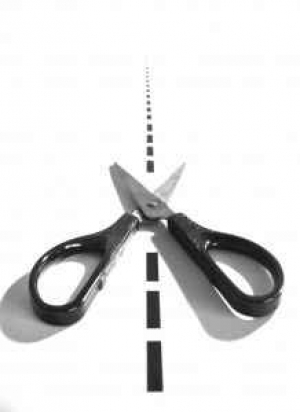 Editing your own work is tricky business, because often times you don't see what's on the page, but see instead what you intended to write. Then, eventually, when you give your story or article to a friend or colleague to read, you're shocked by the number of errors in the work. You think, "Holy cow! How could I have made so many silly little mistakes? How could I have missed that stuff?" Well, relax, because it happens to all of us. Our minds play tricks on us; our minds sometimes don't pick up minor errors because the story in our head is exactly right, while the story on paper is faulty. Our eyes are also in on the nefarious bad editing, as they fail to see what should be obvious. Self-editing is difficult, but with the proper discipline, it can be done and done well.
Optimally, any work a writer produces should pass through the hands of a good editor, but that's not always possible, especially nowadays, with thousands and thousands of blogs filling up cyberspace. The internet is all about immediacy, and if you're blogging and have a deadline to meet, a quality editor is a luxury you have to mostly do without. Of course, the great thing about blogging is, even if you've published a piece online, you can always go back and fix any errors you might find later; you should correct those errors quickly, though, as lingering mistakes tend to haunt a writer forever and cause hives and uncontrollable weeping.
We all have our own writing style, just as we all have our own recurring mistakes. Knowing your faults is key. Here are mine:
1) Leaving out a word. My hands almost always have trouble keeping up with my mind, so an occasional word or thought will be left out. If I forget a word in a sentence, Spell-check is not going to rescue me. It's up to me, myself and I to spot the problem in the following sentence: "Avatar has grossed a bazillion dollars since it premiered year." If writing and editing in a hurry, I could read that sentence five times and not spot the error. What works for me is setting the writing aside for a bit, at least an hour. When I come back and read it after taking a break, I see the writing with fresh eyes. If you don't have time to leave the work and come back to it, just read slowly. Analyze every word, every series of words, every thought. Forgetting a word or two is easy to do, and hard to spot.
2) Relying too heavily on Spell-check. "Don't worry," a friend once told me, "I don't need to be a good speller, 'cause I've got Spell-check now." Don't believe it. Having a Spell-checker is great, and it certainly comes in handy, but it's hardly going to solve all your problems. You still must know the difference between "you're" and "your," between "they're" and "there," and between "it's" and "its." As a writer, you can't rely on a machine to make your work better, only constant reading and writing will do the trick. A writer should be forever sharpening his or her skills. The less you depend on your machine to write for you, the better off you'll be.
3) Clarity. When writing a story, I know my characters; I know their motivation; I know their history; I know them as if they're family. Trouble is, when writing a story, the reader doesn't know all that the writer does. A fact about a character you think is obvious, may not come across that way to the reader. If a character has a trait you feel the reader should know, put it in the story. Don't assume the reader is going to figure everything out. Sure, certain things are better left to the imagination, but you've got to give your readers enough guidance to glean all the important details. I submitted a story recently, which I thought was quite good, but when feedback arrived, I was shocked. "Why did the woman kill him? Was she a cop? A serial killer? Did she have a grudge against the man?" the editor wrote. I thought I'd made it quite obvious why the woman did what she did, but after re-reading the story, I realized my mistake. The woman's motivation was clear in my head, but not in the story. I hadn't properly given the necessary information. I knew the reasons, but anyone reading the story would not.
Nothing beats an extra set of eyes during the editing process. A quality editor will do wonders for your work. Still, if you must edit yourself, it takes an extra-careful eye. Now that I've written this piece, I'll probably find ten or twenty minor errors. Wish me luck correcting them, then go fix your own.