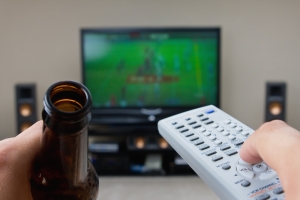 Here's fair warning: I can't think of a damn thing to write about this week, so, much in the same way that I did NaNo this year, I'm just going to type along until ideas start to connect and something sensible rises from the deep. At least, as much as it ever does. This would be the time to say something rude and acerbic if you're gonna. Go ahead, I'll wait.
Well, it's either out of your system or you couldn't think of anything, so I'll continue. I had originally planned to talk a little bit about Justin Halperin, the dude who snagged himself a book deal and a TV deal just off the Twitter feed he created of his dad's quotes. That was before I got halfway into it and realized I didn't really give a damn. I don't begrudge him his success, if that's the right word, but I don't respect it either. Without envy or real approbation, I can't really bring myself to put the tempest in that teapot.
Hey, maybe a word or two on what many of us just spent November doing? That seemed like a good idea, so I thought about that for a little bit. Nothing stirred, so I thought some more. I closed my eyes to help me focus. Eventually the pain of the F6 key pressing against my eyeball woke me up, which demonstrated I needed a different topic.
Book reviews are always fun, but the only book I'm reading right now is Moby Dick, and it turns out that book's been out for a while. Before that, I had read through some graphic novels my son brought home from the library. I do love me some graphic novels, especially anything starring Batman and his family, and at long last, my son's old enough now that we can discuss the finer points of the various Bat-adventures and the Dark Knight's character shadings. However, I admit I miss the earliest days of my son's interest in Batman, when my wife and I would hum the theme song from the TV show and my son would squeal, "Batman!" from the depths of his car seat. It took us a while to train him to do that, but hey, what else you gonna do on long road trips?
I was talking to my friend, the memoirist, today about her book, and she mentioned that she was having some philosophical troubles with it. Not so much with the book itself, but in writing it, she was putting down on paper certain behaviors and experiences that wouldn't sit well with her particular religious culture. I can see where she's coming from; her particular subgroup has not been, in my admittedly limited experience, terribly pleased about its members admitting to certain thoughts and actions. However, I think this will be mitigated by the fact that her book is written by someone still active within the faith and doesn't have a particular ideological axe to grind. She's a critical thinker and a true believer, and yes, the two can go together.
While in my office today, I became aware of something I had known before but not consciously thought about: at the university level, creative writing faculty members are only in their office when they have to be. The lit and rhetoric and linguistic folks are often working in their offices, at least at the last two universities I've worked at and/or attended, but unless it's their office hours, I rarely see the creative writing folks. This isn't a criticism, just something I've noticed.
It's in our flaws and quirks that true personality resides. Persian rugmakers used to include a tiny flaw in their work as a tribute to God, the only source of true perfection in their beliefs. Of course, nobody ever really specified how big or what kind of flaw it had to be. The presence of the flaw indicated faith; the location and nature of the flaw revealed personality. Sometimes, finding the flaw might be as important as the magnificence in which it resides. I wonder what that says about us. Anyone?