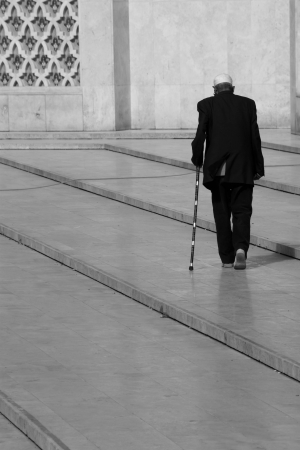 How much does life experience play in to writing? Depending on how you think of the question, that answer could range from 100% (as every word we write is informed by some part of our past) to anything down to 0% (although that's a tad extreme). But how important are actual experiences to writing in comparison to, say, knowledge you gain from a book? Is it impossible for a young guy like me to write something truly beautiful because I have yet to experience much past college? Can a upper class businessman create a character who lives in poverty and feels real?
Imagine a scene where a guy is getting arrested for murder. The cop finds him, asleep, on the side of the highway. There is a long drive back to the station. What does the officer say? What does the murderer say? What elements can you add to this story to make it more realistic? We hear all the time about authors conducting research to inform certain aspects of their stories, but what if I happened to be an avid reader of novels involving cops? Does that count as experience? One could argue that I have a more applicable experience. Crazy? Let's think about this. As a reader of murder mysteries and Jeffrey Deaver novels, etc, I would've seen, over and over, how the life of a cop is transferred to the written word. I have already experienced how an author can affectively incorporate law enforcement lingo in to tight, engaging dialogue. If I were simply pulling from my own life, I'd have to discover the rules myself.
Let's roll over to another scene. A mother is giving birth and the soon-to-be-father (they are not yet married, but have plans) is stuck in traffic. How does the mother react? What are her thoughts? For those of us who have never given birth before (and, even more, those of us who are completely incapable), where do we get our inspiration from? We could interview women, or sit in on a few births, or, better yet, strap 20 pounds to our bellies to carry around for nine months. You might not have to go to such extremes. As we live more of life, we gain second-hand experiences. You'll hear stories or be involved in conversations about birth and when it's time to write, you'll pull from these. Anything else, you can fill in the gaps. By incorporating what you already know about human interaction and mindsets in high-stress environments, I believe you can still create a believable and intriguing story with the above synopsis, even if you've never seen a delivery room.
Whatever your opinion on the subject may be, it is interesting to look at fantasy. John Grisham was a lawyer and writes superb fiction in litigation. Michael Crichton was a medical doctor and his extensive knowledge is apparent throughout his books. A more recent work, Little Bee by Chris Cleave, was inspired by the author's time working in a detention center. Arguably, these authors could not have written their subjects so well without their specific experiences. Ah . . . but then what can be said of fantasy? Surely the best fantasy authors grew up reading fantasies. They devoured book after book and learned the conventions and how to adapt them as their own. As much as a police officer can read a mystery novel and proclaim that certain aspects are inaccurate and just plain off, a fantasy buff can be turned off by an author who clearly doesn't know the rules. But these rules are learned from a world of make believe. Do these experiences count?
'Write what you know.' I can dig that. It makes sense. Keep that in mind, write it down somewhere, but for now, take a chance and write what you don't know. Tolkien didn't grow up with Hobbits and Orcs and Tom Clancy never made it in to uniform. I believe that experience can be just as helpful as detrimental, depending on the person. If we only write about what defines our lives, we may become trapped in the rules. Allowing the elements of our expertise to be experimented on bold, new plains of imagination, we can venture outside the world of rules. What you produce could be a piling stink of shit. Or you could be the next 'father of modern <insert genre here>.' Tolkien did it. Now it's your turn.
What are your thoughts of experience? Wisdom? Knowledge?
Writing?