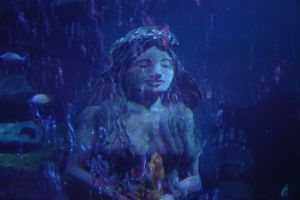 I was twelve. One night, I dreamt I wrote a book about infinity. When I awoke, the amazing feeling of writing this book remained, although I couldn't recall any details, other than the brilliance. I tried for weeks to get back to that psychological state, but I couldn't.
On other nights, I've dreamt other ideas, although none was ever as awe-inspiring as that idea when I was twelve. Recently, I had a flash of an idea while I was washing dishes. I won't go into the details here, but it was intriguing enough that I started to dance with it, tentatively at first. Now it's become a tenacious mosquito buzzing at my subconscious.
Which brings me to my topic. How do you know when an idea is a good idea?
Books are like fish. There are many fish in the sea, they say, and they're usually hidden under the surface, coaxed toward us only if we use the right bait and have patience to wait. But here's why I don't fish: I'm impatient. Plus, I don't like worms. Fishing is hard business, and hauling a story in and landing it leaves many people tired mentally. Many need a break.
After finishing a project, I'm always in that same boat, and this boat is bobbing aimlessly on a foggy sea. I usually wait for a week or two and don't do anything mentally taxing except play Scrabble with robots. (This is not a metaphor for my family. I really play online, against robots.) Eventually, I get bored and ideas start to surface like little fish nibbling at the top of a murky pond, probably the same pond where my boat is bobbing.
One or two bold ideas will jump out of the water and into the boat, slapping my face with their wet, fishy tails. That's when things get tough. Are these good ideas worth pursuing? Or are they simply the first things that popped into my head because I played a related word against Computer02 (who cheats, by the way.)
The process of going from the dreamy, receptive, creative state of entertaining new ideas to choosing one is full of possible missteps. Anywhere along the way you could choose the wrong path, choose the wrong project. My solution usually involves solitude, visualization exercises, and gut feelings.
When I'm trying to choose an idea for a project, here's what I do: I sit in my office, the place most heavily threaded with all my inspiring artifacts. These include two Art Deco reproductions of muses, a huge poster of Botticelli's fresco, a Chagall print of a woman flying away, and other less esoteric stuff like a tiny plastic Jack from Jack-in-the-Box who grips a steering wheel and stares out from the top of my hutch. I also have my librarian action figure, a framed letter from Tom Robbins, a blue glass bird that belonged to my mom, and an enthusiastic note from my agent. Plus a box of Cheezits. Reduced fat.
With all these icons of magic around me, I sit quietly, empty my mind of the detritus of the day, and wait. I visualize a darkened stage with one empty stool lit from above by a spotlight. Then I wait to see who shows up to sit there.
If someone comes by, I visualize a conversation. Sometimes it's a total surprise, and sometimes it's the character I was sort of expecting, but it's usually worked out pretty well. I sometimes still take false steps, but I don't blame the characters for that.
If I listen well enough, and am honest, the right fish jumps into the boat. But like mermaids and white whales, listening and being honest are elusive, and when we think we're doing both, we're often doing neither. So I beat on, a boat against the tide, and hope that whatever I choose brings me whatever I need.
How do you judge your ideas? How do you choose a project?