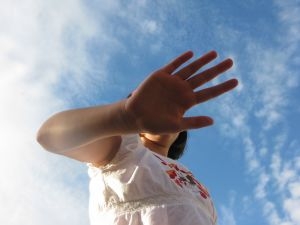 Mostly, I write what I know, because that's what I'm comfortable with. I observe, jot down interesting details about my friend's dysfunctional family, and turn them into stories.
Sometimes I write a story based on a dream I had, or I write a rendering of my own life had it gone a different way. Writing, for me anyway, is nearly always my reflections on life gone very right, or very wrong, and my best work is done when I am emotionally immersed in my own story. Being detached doesn't work for me; if I don't put a piece of myself or a piece of something I experienced into my stories, my prose comes across as stilted and, well, detached.
The trouble with stealing scenes and characters and dialogue from real life, of course, is the fear that someday down the road I might make someone angry, or (even worse) hurt someone's feelings. And this fear, which so far is completely unfounded, holds me back and often causes me to turn down one great idea for another less personal (and therefore safer) idea. I hold back.
My fear is the reason why I rarely use "certain language" in my fiction. What if my mother reads it?
It's why I've never written the story of my first kiss. What if she finally finds out I kissed her boyfriend?
It's why I tread lightly when I portray close friendships and sister relationships in a piece. Because I don't want to spoil any real-life friendships with depictions of imaginary ones. I don't want to offend someone I love with my character's thoughts on religion and sex. And most of all- I don't want anyone believing they have a portal into my soul- believing that my protagonist is, ultimately, a portrayal of me. Even if she is.
Because the protagonists I want to write about have messy lives. They occasionally think nasty thoughts. They don't always like their mother-in-laws, they fake orgasms during sex, and they have major financial difficulties. And though some of these things are definitely derived from my own personal experience, a lot are not: mostly they are amalgamations of circumstances and of people I know, or they are completely made up. Just figments of my imagination.
There are writers who don't have this problem at all. Not only don't they care what people think, they write to shock- to shock their parents, their professors, their friends, etc. They overload their prose with passion and particular purpose. This, too, can be problematic. If you put the essence of your entire being into a character, can that character ever develop as a separate entity?
Everything in moderation.
The thing is, my fiction is not a diary. And once I instill this bit of truth into my subconscious, I can be more honest in my writing. I can imbue real life into my character. I can make my fiction breathe.
How much of yourself/ of your personal life do you put into your fiction? Does this ever create problems for you?