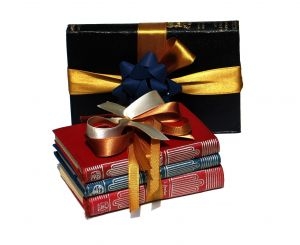 It's that wondrous time of year again. The Holidays! For me, it's the celebration of the day Santa Claus found baby Rudolf in the manger and the Three Wise Men made Rudolf's nose glow a brilliant red, as Mary and Joseph looked on and wondered who the hell had replaced their baby with a reindeer. Yes, for me, it's that joyous time I've always known as Non-Religious Christmas. I was raised Catholic, sort of, but my family stopped going to church quite early in the existence of little Ervin Anderson. Christmas for me has always been more Santa and Frosty and Charlie Brown and The Grinch, and less Baby Jesus. We all have our own reasons for joy this time of year, whether they're based on religion, fairy tales, or family. I like to take this time and use it to introduce people to books that I love.
In that spirit, allow me to share some nifty literary gift ideas. Buying someone a good book and introducing an author we love to friends and relatives is always fun, right? Here are a few books that get my highest recommendation.
Let the Right One In by John Ajvide Lindqvist. You may have seen the movie, which is clearly the Gone With the Wind of Swedish Vampire films, but the book is also a masterpiece in its own right. Beautifully written, creepy, touching, scary, sweet and awful all at once, the book manages to put a unique twist on the vampire genre. Forget Twilight. This is the real vampire deal. It's horror fiction at its very best. It'll stay with you long after you've put it down. This essential modern horror classic belongs in the library of any horror fiction fan.
Adventures In the Screen Trade by William Goldman. A must for any wannabe screenwriter. Goldman has written some true screen classics: All the President's Men, Butch Cassidy and the Sundance Kid, The Princess Bride, and knows the craft of screenwriting inside and out. Not only does Goldman give aspiring scribes the tips and tricks they need to write a winning screenplay, he also dishes the juicy behind-the-scenes Hollywood stories of the making of his many films. He pulls no punches, and gives the reader great insight on the heartbreak a writer can experience when dealing with studio executives, producers, actors and directors. A must for any writer with Hollywood dreams.
Sputnik Sweetheart by Haruki Murakami. I could easily recommend a dozen books by Murakami, who's one of the great writers of our time, this novel has stuck with me more than the others. The story concerns a college students named "K" who falls in love with a classmate, but he knows that his love will never be returned. Part love story, part detective novel, part alternate reality, it's a book unlike anything I've read. It's about writing, and it's about fading out of our world and into another. It will leave you breathless, sad, yet somehow exhilarated. A can't-miss for any literary fiction fan.
American Psycho by Bret Easton Ellis. Is it a horror novel? A comedy? A critique of the greed-soaked 80's? Yes, yes, yes. Controversial at the time of its release, the book generated much venom and many protests. It's one of the funniest books I've ever read. Yes, it's sick and twisted and graphic, but it's also hilarious. I believe it's one of the most misunderstood novels ever written. A great gift for anyone who can stomach the nasty bits.
The Bell Jar by Sylvia Plath. Another misunderstood classic. Sure, it's a book about a young girl having a breakdown and attempting suicide, but it is also extraordinarily funny, with some truly great, biting social commentary. Sylvia herself believed she'd written something quite clever and amusing. I agree. Upon first reading, one might focus on the sadness, but it's in the second, third and fourth readings where the humor truly begins to stand out. A great gift for someone who ordinarily doesn't read the classics.
Y The Last Man by Brian K. Vaughan and Pia Guerra. What happens when the entire male species suddenly dies, except for a man named Yorick and his pet monkey, Ampersand? What happens is, you get one of the greatest comic book series of all time. Currently collected into ten graphic novels, this series is a stunning piece of sci fi horror. Surprising at every turn thanks to Vaughan's masterful scripts, and drawn beautifully by Guerra, this series will hook even those who never thought they'd enjoy a comic book.