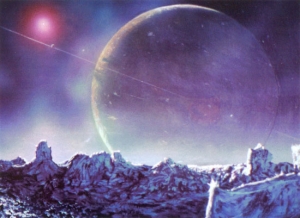 You may well ask… "Unless you follow the rules, you're doomed to failure," writes Hugo and Nebula Award winning SF author Robert J. Sawyer (in The Canadian Writer's Guide, 2003). ACK! Before you despair, you are not doomed. What Sawyer means is that there are certain things about science fiction and fantasy in literature that you should know and follow before you can seriously consider publishing your work in this challenging but very fulfilling field.
Some of you may know that I have written several books and short stories (see my profile). Most of my stories are speculative fiction and thrillers set on Earth, but I have also written historical fantasy and space adventure (my latest is a juicy space thriller with a lemon twist called "Outer Diverse" the first book of the Splintered Universe Trilogy, coming out this fall). As a teenager, I discovered Ray Bradbury and decided to write science fiction. Twenty years later I met Ray in person and he told me that "EVERYTHING is metaphor." (Big smile). My favorite movies and books asked the deeper questions about us as a species, where we are going and how science propels us into new territory that forces us to ask even deeper questions about ourselves, God and the universe. In science fiction, science provides the premise and fiction explores the answer.
Science fiction is allegory.
Defining Science Fiction and SF Writers
Let's start with a pretty good definition of science fiction by Richard Treitel: science fiction is fiction set in a world that differs from our everyday world in a way that importantly involves science or technology.
Science fiction illuminates our history and our very humanity. It does this by examining our interaction with "the other", the unfamiliar. A new relationship. A stranger in town. A scientific discovery. A clash of cultures. An alien encounter. How do we react? Is it with fear? Wonder? Curiosity?
Good SF accurately takes the premise of real science and explores it to the realm of possibility and consequence. This genre, more than any other, gives us the opportunity to look at what may be, how we get there and what happens to us as a result. I am thinking of the writings of Greg Bear, Robert J. Sawyer, Robert Wilson, Kay Kenyon, William Gibson, Robert Silverberg, Isaac Asimov, Stanislav Lem, and Ray Bradbury (to name some of my own favorites).
The SF writer is both herald and conscience of science and humanity. It is a responsibility that some of us don't realize that we have when writing in this unique of genres. We are commentators of the present and reporters of the future.
Science fiction is subversive.
Science Fiction is the Literature of Change
In most science fiction something significant happens, is discovered or is revealed that is science-based and has profound effects on the world—See John Wyndham's "The Chrysalids", Isaac Asimov's "I Robot", Ray Bradbury's "Martian's Chronicles", Robert J. Sawyer's "Calculating God", Nina Munteanu's "Darwin's Paradox" (apologies--I just had to throw that one in!).
The events, actions or discoveries throw the main protagonist and his/her world off balance into a full-tilt journey of self-discovery (the classic hero's journey). Science fiction is a genre of global examination and evolution. It explores humanity's own identity, our values and our evolution by showing how we react to change and the unknown. Science fiction postulates and extrapolates. It takes a plausible premise (idea) and runs with it.
Science Fiction is About Ideas
Science fiction stories are often created from a scientific premise; you can usually get there from here by following a premise based on some current scientific thought (albeit imaginatively). Premise in fantasy arises more from the fantastical (often magic) to explore opposites like good and evil.
"What if" is a frequent premise that explores and resolves some deeper question about humanity, social behavior and evolution. "Good SF," says Sawyer, "is usually about something and often something very profound, such as whether or not God exists." See Sawyer's Calculating God, for instance. SF authors are in the position to examine these because science fiction is largely a genre of metaphor. What if time travel was possible? What if we could read each other's minds or see into the future? What if we could dream ourselves into reality? What if we could live forever? … What if we made contact with aliens and they were bad, good, ugly or whatever?
In all cases, the writer combines premise with related theme (what's at stake) to create a fulfilling journey for the reader. Robert J. Sawyer reminds us that, "your main character should illuminate the fundamental conflict suggested by your premise." The character's personal journey reflects the global "journey" in both science fiction and fantasy.
Science Fiction is About Something Large
In keeping with "what ifs" and the deeper questions, science fiction— whether set on Earth, outer space or some other planet, dimension or universe—is usually multilayered and metaphorically portrays a large concept through a whole world. This is also the case in fantasy.
World-building (and setting too), when done well, not only follows good science, but also encompasses theme and provides plot-issues to convey your theme. In other words, the "world" you build is a main character that reflects the journey of the main protagonist (see Ursula LeGuin's "The Dispossessed" or Frank Herbert's "Dune" series).
Science Fiction is Great Literature of Metaphor
Author Peter Nicholls aptly stated that Science Fiction is both "the great modern literature of metaphor and pre-eminently the modern literature not of physics but of metaphysics." It is a profound mistake to interpret the genre of science fiction literally.
A good example of this is the motion picture "District 9" by Neill Blomkamp, set aptly in an alternate present-day Johannesburg, in which visiting aliens have been incarcerated within filthy ghettos (see my review in "The Alien Next Door"). The heroic journey of the ordinary human WIkus van de Merwe reflects the global journey of humanity in reaction to the mysterious visitation of an alien race. Blomkamp's metaphors to our jaded history of prejudice and racism are clever and vary from the subtle to the obvious. While many viewers saw no further than the thrilling elements of the movie—alien visitation; kick-ass weapons and cool creatures getting blown up—District 9 conveyed a powerful allegory that asks unsettling questions about colonial powers. Critic Frederic Jameson reiterates, "Science Fiction is in its very nature a symbolic meditation on history itself."
Science Fiction Portrays Science Accurately
Most science fiction readers expect that you will have done your research on how that gizmo works or that you carried out a logical extrapolation of "Quantum Entanglement" when using it in your SF story. Getting the science right is a prerequisite to having your fiction accepted by a discerning science fiction reader. Even if your story challenges a current scientific premise or theory (as I did in "Darwin's Paradox"), you need to fully understand it first.
Recommended Reading: Munteanu, Nina. 2009. The Fiction Writer: Get Published, Write Now! Starfire World Syndicate. 266 pp. Sawyer, Robert J. 2003. "Breaking into the Science-Fiction Marketplace". In: The Canadian Writer's Guide. Official Handbook of the Canadian Authors Association, 13th Edition. 2003.