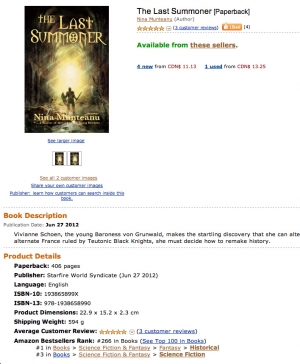 I've been writing and publishing books for a while now. Since the early 90s. It wasn't until 2007 with Dragon Moon Press's publication of Darwin's Paradox that a book of mine was picked up and sold by a large bookseller, and one with the largest virtual bookshelves in the world: Amazon. The book has seen a lot of action—on Amazon and in decent brick and mortar bookstores elsewhere. I never really paid attention to those Amazon numbers…What do they mean, anyway?
Several books later, my historical fantasy The Last Summoner made it to the bookshelves of Amazon in late August of this year (2012). What happened was unprecedented and stupefying—And I'm still panting from the excessive sushi and warm sake I've been drinking since—But I'm getting ahead of myself…
Have you ever wondered what those Amazon Bestsellers Ranks really mean? Have you ever wondered whether they relate to something useful about sales through some consistent algorithm or are they, in fact, the result of some whimsical arcane card game played by men behind a curtain? (It wouldn't be women; they don't hide behind curtains, do they?)
According to Amazon itself, the number found next to the Amazon Rank is based on the frequency with which that book sells compared with other Amazon books.
The rank supposedly shows how many books on Amazon are selling more copies than yours over a given time period; therefore, the smaller the Amazon sales rank, the better the sales. The rank does not tell you how many copies of the book Amazon has sold. It's a relative ranking that compares your book's sales to other books. So, if my book's Amazon Rank was  #646, 836 in Books (which The Last Summoner was today on Amazon.com), that supposedly means that about 646,836 other books on Amazon's shelf of about seven million titles are selling with more frequency. It also means that my book has sold more copies than 6.3 million other titles. That's pretty cool.  Remember that the ranking provides a relative figure, not an absolute figure.
While the Amazon Best Sellers list is a good indicator of how well a product is selling overall, it doesn't always indicate how well an item is selling among other similar items. Amazon therefor uses category and subcategory bestseller lists to highlight an item's rank in the categories or subcategories that reflect it best. Amazon chooses a few of the most popular subcategories in which the item has a high rank in relation to other items in that subcategory, and showcases the item's rank on the product page. As with the main Book Amazon Best Sellers list, these Book Category rankings are based on Amazon sales and are updated hourly.
How does the rank relate to actual sales? This is where it gets interesting, if not downright poetic. One source has claimed that a ranking over 10,000 meant sales of 2.2 copies a day. Another quoted an informal study by a publishing house, who tracked 25 books, and discovered that a ranking of 10,000 or more meant sales of about one to five books a week. A rank of say 200-300 translated to 150-200 books a week. For competitive reasons, Amazon.com does not publish information on actual sales to the public.
Indie writer Edward W. Robertson suggests that, "The bestseller list is essentially a gauge of how many copies a book has sold over the last 24 hours. It takes longer-term sales into account to a degree, but the last 24 hours are far and away the most important factor. A book can rise and fall extremely swiftly on the bestseller list … The popularity list is more complicated. For one thing, Amazon changes the formula for how it's calculated a few times a year. Currently, to the best of my knowledge, the popularity list is the accumulated sales of a book's last 30 days compared to those in its category–but free books given away only count for roughly 10% of a paid sale, and price is factored in as well, in that the higher your price, the more each sale counts for on the list."
A recent New York Times article discussed how self-published author Aaron Shepard checked the Amazon.com sales rankings almost hourly. Shepard even created a Web site, www.salesrankexpress.com, that lets authors check their Amazon rankings instantly. "People want to know where their book stands, just for the thrill of that score," says Mr. Shepard, whose top seller, "The Business of Writing for Children," clocked in at 1,834th during one random check and at 2,070th during another one. He says it sells 250 to 450 copies a month.
Which brings me back to my book The Last Summoner, recently released worldwide on Amazon. I'm Canadian and I was unabashedly delighted to discover that The Last Summoner ranked as a "Bestseller" on Amazon.ca in the following categories: Science Fiction & Fantasy; Fantasy; Science Fiction; Fantasy; and Historical Fantasy (appearing consistently in the top 30 since its release on Amazon in late August. It's been ranking just shy of the top 100 in Books, capriciously clocking from #250 to #700 on any given day.
What's it mean? Absolutely nothing. But I'm just going to check the site again tonight before going to bed…