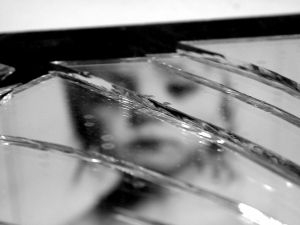 I applied for this amazing writer's retreat that happens in New Mexico every summer. It takes place at a spot called Ghost Ranch, and it's sponsored by a group called A Room of Her Own (AROHO), a writing collective for female authors. I desperately wanted to go there this summer, for peace, for quiet, for a community of fellow writers. I was pressing my fairy godmother for a heavy favor on this one.
So, I got an email from the coordinator. "We were pleased to review your excellent application for a fellowship to attend the 2011 AROHO Retreat. The strength of your writing made you the runner-up for the Touching Lives Fellowship; and, although we are unable to offer you a fellowship this year, we want you to know how impressed the board was by your application." As rejections go, that one was pretty sweet. But the fact is, I didn't get chosen.
Here's the reason I'm writing about this today: I didn't flip out. I didn't take it as a sign that I suck. I didn't slip into a deep depression and vow to never write again (yeah, I've said that about a million times. It never happens.) Instead, I read the very nice rejection, tucked it away in my file of things that didn't quite work out as I would have hoped, and went on my merry way.
This may not seem really remarkable to most people. However, being a lapsed Catholic with a tendency to mentally flog myself at any sign of failure or inadequacy, this attitude was a major move forward for me. I was able to read the email and focus on the positives: namely, that these amazing women thought my writing was excellent, that they took the time to write me a personal note, and that they encouraged me to keep on keepin' on. This was definitely a change for me.
In the past, every failure and rejection stung like the lash of a whip. Anyone who didn't fall immediately in love with my writing was telling me that I should just give up. What it really did, though, was give me an excuse. I could blame my failure on those rejections, on the fact that other people who knew better didn't think I was any good. Forget the hundreds of emails and notes from people who loved my books and stories. Those people clearly didn't have good taste. I could have received ten wonderful comments, and one slightly lukewarm reaction had the power to wipe away all that good.
Not any more. I still feel rejection, but now it just means more work to me, rather than the end of work. It just means I have another hurdle in the race. I'd love to come to the end eventually, and maybe win something, but for now, I'm in the race and trying to enjoy it for what it is.
What has happened? Have I suddenly become a sunny, funny Valentine who sees the world through rose-colored contact lenses? Uh…no. I still have days where depression dogs my every step, where blackness lingers near my soul like the shadow of the Grim Reaper waiting to sop me up like sauce on a biscuit. I definitely don't have this whole outlook thing licked quite yet. But I am making progress. What has happened? I think I've decided to give myself and my instincts as much consideration as I give random strangers.
Progress. Small, incremental steps that, over time, lead to major breakthroughs. The tiny drops of water eroding the Grand Canyon. The grains of rice that accumulate and feed a nation. The small, perfectly formed snowflakes that combine to create an avalanche.
Small steps that create great journeys.