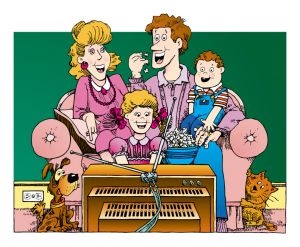 I've accepted that reading is better than watching television in both overall and creative development. However, television has made an interesting transformation in the last decade. On one hand, you have the truly cancerous boom of Reality TV, where creativity is replaced with how many fights you can start by having ten people compete for the heart (and pocketbook) of one. On the other, you have the rise of series with real character arcs, interesting stories, and a continuing narrative. These, in my humble opinion, are not detrimental. They aren't even merely worthless. In fact, I'd say they're worth watching.
*Takes a breath* Pause. *Let's it out. Looks around.*
Cool. I'm not fired. Let's continue.
I thought of this topic when I stumbled across this Stephen King quote:
"If you're just starting out as a writer, you could do worse than strip your television's electric plug wire, wrap a spike around it, and then stick it back into the wall. See what blows, and how far."
It's true aspiring authors won't learn much about writing from anything other than actually reading and writing. And yes, it's true a beginning writer who spends copious amounts of time in front of the magic tube could probably benefit from giving the thing to charity. However, those who have found discipline in a writing schedule, a confidence in their technical ability, and a want to go above and beyond, I say television these days can foster creativity, rather than hinder it.
I'm sure it wasn't the first, but one show stands out as a prime example: Lost. From the beginning, the writers knew they were going to have a middle and an end. Just about every major character had a noticeable arc, and minor details in one episode set up major plot points in episodes way down the line. There was a mix of dramatic tension, comic relief, exposition, and dialogue meant to delve deeper into a character. There were even frequent flashbacks, all elements writers should be familiar with. Sure, the series didn't end like everyone would have wanted, but books have shitty endings, too, right?
Currently, my poison is Breaking Bad. I'm halfway through the fourth season (playing catch-up) and I can't turn it off. And no, I don't think it's because the television has pumped crack (or meth) straight into my brain and transformed me into a drooling zombie. It's because I'm in awe of Walt's transformation, I feel for the moral dilemmas Jesse faces, and I'm genuinely interested to see how different elements of the story will come together in new ways. In truth, I get a lot of the same feelings from reading a good book series. Most of all, I become motivated to create. As I observe the different paths the show takes, and the way events change the characters, I think about how I want to achieve something similar in my writing. At the end of the day, it's all storytelling. How it is told takes different skills for the little screen versus the novel, but many of the elements in keeping an audience engaged and evoking emotion are the same.
Writers should approach forms of entertainment with a creative mind to separate the useful from the useless. It shouldn't be that hard to recognize what can teach, and what cannot. This applies not only to television, but to movies, comic cooks, and even some types of books, as well. We can all have our guilty pleasures, but we should also recognize writing lessons can exist outside of books as well.
To clarify, I'm not suggesting television over books. Neither am I necessarily telling you to go out and buy a TV if you don't have one. Rather, this is for those of us who find pleasure in television and struggle with whether or not it's a waste of time. My take: it depends. There are definitely shows out there that inspire me as a writer. I'd be willing to bet many of us can say the same.