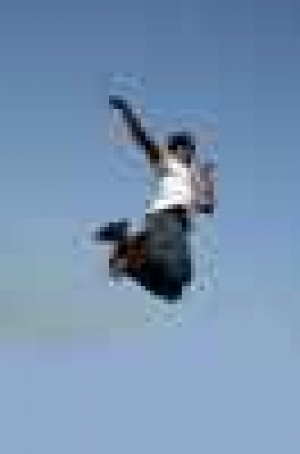 Is confidence as important as talent? Surely not. You could have all the confidence in the world; hell, all the confidence on Earth, Pandora, Alderaan, and Kobol, but without talent, it doesn't mean much. Let's just proceed under the assumption that you've got talent, I've got talent, we've all got talent. We're all awesome writers. We rule. That settled, let's move on to the issue of confidence.
Writers need confidence; writers need to believe in their work, believe what they're creating is not only good, but great. Writers need to believe their ideas are worthy, their characters interesting, their style complimentary to their story, and the final product will be something people yearn to read. Without confidence, the work will more than likely turn out lacking, wishy-washy, and sometimes just plain bad. Writers who believe in themselves often turn out great work. Writers who don't believe in themselves mostly turn out nothing.
Writer's block and lack of confidence go hand-in-hand. I'm quite sure the majority of writers who face writer's block are also facing a crisis of confidence. The writer sits in front of a blank screen or tiny sliver of dead tree, and stares, and stares, and stares, and the writer does not write. Sure, the writer has ideas, many ideas, but what the writer lacks is the belief that those ideas are worthy. The writer will think, "Should I work on the story about the kid who shoots up his school, but we find out at the end that all of his classmates are zombies? Nah, that won't work. I'd have to keep the zombie thing secret until the very end, and I don't know if I can make it work. Maybe I should work on my 'Hillbilly Exorcism' story. Nah. The title's weird and who's going to care?" Thoughts like that are the problem. The ideas are there, but the faith in those ideas is not. Or, the writer likes an idea, but feels as if he or she simply doesn't  have the ability to properly execute that idea.
A confident writer feels like nothing is impossible. A confident writer can cure cancer, win The Nobel Prize, grow tomatoes in the desert, seduce anyone, and fix the economy, all with the power of the written word.
I've sat in front of my computer on more than one occasion with at least five or ten decent story ideas percolating, but talked myself out of each and every one. Why? Because I was doubting myself. I didn't believe in my ability, didn't think I could pull off this type of story or that type story. Sad to say, those days of little or no confidence hit me more often than I'd like to admit. What do I do? I take a deep breath and give myself a pep talk. Or, I'll read something I've written that I'm proud of, and seeing what I'd been previously able to accomplish will often boost my confidence and make me think, "I can do this. I can do anything if I just try. Suck it up and be a man! I've written great stories in the past, and I can damn well do it again!"
When I'm confident, I am never blocked. When I'm bursting with confidence, I'll churn out page after page, just to see if my idea could work as a story. Why doubt an idea until you've given it a chance? Why sit and stare at a blank screen when you could be merrily typing away? I've become fairly adept at overcoming my own confidence issue. I'll challenge myself. The more impossible-sounding the idea, the better the challenge.
So what happens if the idea you've chosen to write a story around simply doesn't work, no matter how much you try? Nothing. All writing, even discarded writing, makes us better.
Those ideas you've got? I'll bet they're pretty damned fantastic. Even if you think they're impossible to transfer from your brain to the page, or think they're too vague, or too crazy, or too complicated, or just plain dumb. Until you start writing, you'll never know.
It's easier said than done when advising a writer to simply not doubt themselves. Because it's inevitable that we'll all, at some point, lose our confidence as writers. Learning how to overcome is the trick. I've found my own ways of boosting my confidence. For others, the methods might be different. Some may read bad writing on purpose, so they can think, "Well, I can certainly do better than that." Some may rely on a friend to urge them on. Some may simply fight through it, write until the confidence returns.
And if nothing you try seems to work? A good, swift kick in the ass never fails.