As I've mentioned before, familiarizing yourself with the historical context of a work of literature is extremely helpful, and often necessary, for its full understanding and analysis. One way to go about this is to research the context of each individual piece, but that's a lot of work. It turns out that having a general knowledge about the major literary periods throughout history is usually enough to give you a deeper understanding of what you're reading. Let's go over a few of these and see why they're important!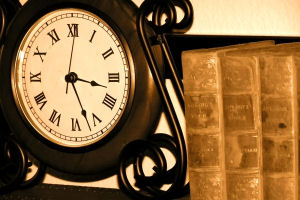 The concept of marking major periods in literature does have its limitations, as it's impossible to group all literature of a certain time period under a single umbrella, but it's generally accurate. It provides another system of classification beyond genre, which is extremely broad, as it chronologically orders literary and cultural data.
Below is an overview of some of the major periods of literature, with definitions taken from A Glossary of Literary Terms by M. H. Abrams.
The Neoclassical Period (1660-late 1700's) – Authors characteristic of this period include John Dryden, Alexander Pope, Joseph Addison, Jonathan Swift, Samuel Johnson, Oliver Goldsmith, and Edmund Burke.
"These authors exhibited a strong traditionalism, which was often joined to a distrust of radical innovation and was evidenced above all in their great respect for classical writers -that is, the writers of ancient Greece and Rome- who were thought to have achieved excellence, and established the enduring models, in all the major literary genres. Hence the term 'neoclassic'."
"Literature was conceived to be primarily an 'art'; that is, a set of skills which must be perfected by long study and practice and consists mainly in the deliberate adaptation of known and tested means."
"Human beings were regarded as the primary subject matter of the major forms of literature.Poetry was held to be an imitation of human life - in a common phrase, 'a mirror held up to nature'."
"Many of the works of the period attack human 'pride' and enforce the lesson of the golden mean (the avoidance of extremes) and of humanity's need to submit to its restricted position in the cosmic order."
The Romantic Period (late 1700's-1830's) – Authors include William Wordsworth, Samuel Taylor Coleridge, John Keats, William Blake, and Percy Shelley.
"The prevailing attitude favored innovation over traditionalism in the materials, forms, and style of literature.Wordsworth denounced the upper-class subjects and poetic diction of the preceding century and proposed to deal with materials from 'common life' in 'a selection of language really used by men'."
"Poetry is not primarily a mirror of men in action; on the contrary, its essential component is the poet's own feelings.The immediate act of composition, if a poem is to be genuine, must be spontaneous –that is, unforced, and free of the 'artificial' rules and conventions of his neoclassic predecessors."
"External nature became a persistent subject of poetry and was described with an accuracy and sensuous nuance unprecedented in earlier writers.It is a mistake, however, to describe the romantic poets as simply 'nature poets.'The outer scene is not presented for its own sake but as a stimulus for the poet to engage in the most characteristic human activity, that of thinking."
"Neoclassic poetry was about other people, but many Romantic poems invited the reader to identify the protagonists with the poets themselves."
The Realistic Period (1865-1900) – Authors include George Eliot, Mark Twain, William Dean Howells, Honoré de Balza, and Émile Zola.
"Realistic fiction is often opposed to romantic fiction.The romance is said to present life as we would have it be – more picturesque, fantastic, adventurous, or heroic than actuality.Realism, on the other hand, is said to represent life as it really is."
"It is most useful to identify realism in terms of the intended affect on the reader:realistic fiction is written to give the effect that it represents life and the social world as it seems to the common reader, evoking the sense that its characters might in fact exist, and that such things might well happen."
"To achieve such effects, the novelists we identify as realists may or may not be selective in subject matter – although most of them prefer the commonplace and the everyday, represented in minute detail, over rarer aspects of life – but they must render their materials in ways that make them seem to their readers [a] very ordinary experience."
The Modern Period (early 20th century, especially after WWI) – Authors include James Joyce, T.S. Eliot, Virginia Woolf, Gertrude Stein, and Ezra Pound.
"The catastrophe of the war (WWI) had shaken faith in the moral basis, coherence, and durability of Western civilization and raised doubts about the adequacy of traditional literary modes to represent the harsh and dissonant realities of the postwar world."
"Major works of modernist fiction subvert the basic conventions of earlier prose fiction by breaking up the narrative continuity, departing from the standard ways of representing characters, and violating the traditional syntax and coherence of narrative narration."
The Postmodern Period (after WWII) – Authors include Samuel Beckett, Thomas Pynchon, Jorge Luis Borges, Roland Barthes.
"The term 'postmodernism' is often applied to the literature and art after WWII when the effects on Western morale of the first war were greatly exacerbated by the experience of Nazi totalitarianism, the threat of total destruction by the atomic bomb, etc."
"An undertaking in some postmodernist writings is to subvert the foundations of our accepted modes of thought and experience so as to reveal the meaninglessness of existence and the underlying "abyss," or "void," or "nothingness" on which any supposed security is conceived to be precariously suspended."
Just by knowing how works are categorized in terms of their place in history you already know a whole lot more about the work. Now when you hear the terms "neoclassical" or "postmodern" bandied about, you'll know what they mean!