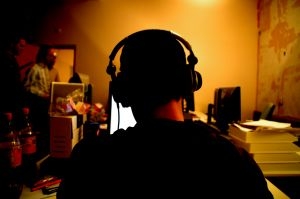 I'm going to tell you what keeps me from writing.
Surprisingly, it's not time. It's not my four kids- it's not even my three-year old twins who are potty-training (and failing miserably.) It's not the dishes in my sink or the dust on my shelves. It's not the book on my nightstand or the one on the kitchen table. It's not friends or relatives who drop by unannounced. It's not telemarketers, door-to-door salesman, Jehovah's witnesses, or the ice-cream man.
Maybe the ice-cream man a little.
It's not the television, as I gave up General Hospital years ago, and it's not cigarettes or shopping excursions or the endless parade of youth baseball games I attend. It's not even my husband who, when he arrives home after a long day of work, actually wants to "spend time with me" or some such silliness. The nerve.
It is, of course, the internet, with its glittery doorway into all things unknown. It's Facebook and Scramble and IMDB and e-mail. It's CNN and hilarious bloggers and The Onion. It's Google Satellite and Statcounter- how many people have checked out my blog today? It's Twitter and YouTube and coupon sites.
A quick check turns into five minutes, which turns into just a couple more minutes, which turns into my kids' entire nap time. I hear the first child rouse and realize that I am sitting at the computer, gushing at pictures of puppies posted by the girlfriend of the sister of some guy I talked to a couple of times in college who is now my Facebook friend. And when you realize that you have wasted two hours of your life, VALUABLE TIME, looking at the pictures of the puppies of the girlfriend of the sister of some guy you talked to a couple of times in college, let me tell you. You feel like a dolt.
This isn't procrastination in the traditional sense. Because you are not trolling the internet to avoid working- you just can't seem to stop. Because you, my friend, are a lab rat conditioned to find the cheese.
Yes. I just called you a lab rat. But I'm pretty sure I'm a much larger lab rat than you are, because I eat A LOT of cheese.
The internet is like the lab rat's maze. We wander until we find our reward. Some mazes are easy- we've gone through them time and again. We click on the Facebook icon, type in our password, and catch our breath- any new comments? Event invites? Notifications? Dear God, any new FRIEND REQUESTS??? These are our cheeses.
Other mazes are more difficult. Perhaps you are dying to know what soundtrack that song you heard on the radio is from. You try the major search engines and persist until, voila! The information is finally in your brain where it will remain until you forget the next day and search whole thing over again. Only this time, it'll be easier, because you remember the movie had Jude Law in it.
An article from Slate magazine aptly describes this lab-rat phenomenon. Read this short excerpt and take a look at the entire article. It's pretty terrifying:
We actually resemble nothing so much as those legendary lab rats that endlessly pressed a lever to give themselves a little electrical jolt to the brain. While we tap, tap away at our search engines, it appears we are stimulating the same system in our brains that scientists accidentally discovered more than 50 years ago when probing rat skulls.
Well, this certainly explains why people text at the dinner table. Which is so rude, by the way.
If an internet addiction was like a drug or drinking problem, the first step would be to get rid of the temptation. But, as writers, we can't rid ourselves of our computers. As researchers, we can't even rid ourselves of the internet.
This week, I am going into dotox. I.e., I'm going to work really, really hard to recondition myself not to seek those little "highs" I get from being rewarded for my searches. My life with its appointments and deadlines and children has kept me from becoming an internet addict- but keeping my focus on a job at task and not losing in the netherworld of cyberspace is a conscious effort.
I'm fighting mindlessness. And here's how:
• I'm keeping a timer by the computer. When I first get on the internet in the afternoon, I'm giving myself 15 minutes to quickly check my e-mail, respond to tweets, look at Facebook, etc. When the buzzer goes off, Microsoft Word comes on.
• I know this won't be enough. So I'm going to have my alarm beep every 20 minutes. (Sound Pavlovian? I'm re-conditioning myself, people. Bells are in order.) This will remind me to stay on task. I'm going to bet that this week, I'll catch myself straying…
• which is why I'll need a note taped to my monitor reminding me what I need to accomplish and why. Because if I finish my work, I won't have to stay up until past midnight to meet a deadline. Because if I work on my short story, I can actually submit it come September. Because I don't want to go down the lonely road that leads to (gasp) playing World of Warcraft for days without stopping.
Do you lose time on the internet? What strategies do you employ to keep your mind on task?