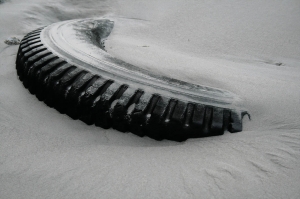 So, it's been almost exactly a year since I started blogging for Scribophile. This is posting number 53, an inauspicious number in and of itself (other than being a prime number), and it occurs to me that I'd like to discuss a quality that fits right in with inauspiciousness: subtlety. It's a fine quality, one that our entertainment could use a little more of, and well worth cultivating.
Now, when I say subtlety, let me be a little more specific. I mean the quality of expressing points or information in such a way that the reader is not clubbed over the head with what the author is trying to express. This also covers the quality of allowing readers to reach conclusions without explicitly stating what it's supposed to be, or even allowing them to reach their own (although this spills over into ambiguity; another fine quality, if used sparingly).
Sometimes it's hard to appreciate subtlety in a work until it's removed; a glaring example of a change that did this is the coda to the unexpurgated version of Stephen King's The Stand. All right, hear me out: I realize that King is rarely considered subtle, but come on. The original ending to The Stand concluded the story on a note of hopeful realism, with two of the characters in the hospital watching over a new baby that may just survive the superflu. It wasn't over the top, and hit a believable emotional pitch, considering what had come before. Compare that to the coda in the 1990 re-release (the original cut came out in 1978, I believe but am too lazy to confirm), where Randy Flagg wakes up on a beach and finds himself some new followers. You could argue that this ending is more in line with the nature of the monstrous in storytelling—i.e., you can't keep evil down for long—but it reads like King went, "I'm not sure everybody understood what I was saying about the recurrent evil inherent in humanity, so I'm going to underline it. Again." When I read it the first time, I went, "Meh." It hasn't aged any better for me.
On the other hand, you have works like Shirley Jackson's The Haunting of Hill House, which is so subtle you might miss all of what Ms. Jackson (if you're nasty) is saying. The opening paragraph, widely considered one of the best openers in the genre, is repeated as the end…except for one or two minor changes. In fact, even though it's all over the Web, I'm going to include the opening paragraph here, just because it's so damn good:
"No live organism can continue for long to exist sanely under conditions of absolute reality; even larks and katydids are supposed, by some, to dream. Hill House, not sane, stood by itself against its hills, holding darkness within; it had stood so for eighty years and might stand for eighty more. Within, walls continued upright, bricks met neatly, floors were firm, and doors were sensibly shut; silence lay steadily against the wood and stone of Hill House, and whatever walked there, walked alone."
One of the most brilliant aspects of Jackson's book—which was duplicated almost exactly in the superior 1963 film version and entirely extracted from the imbecilic 1999 film version—is that it's possible to read the story as a haunted house story or as the descent into madness of one tragically narcissistic woman. Jackson certainly had her preferences, but she plays it admirably close to the vest, and it's this light touch that help make the story so exceptionally gripping. Knowing what you're about, and how you want to guide your readers along, is a hallmark of excellence in writing.
So, how do we as writers attain this level of mastery, besides practice? Well, one way to get there is to understand what it is you want to say, and then pare down your writing to rid yourself of the obvious and the on-the-nose exposition. Look again at Jackson's paragraph above. You read it and you get the pretty strong impression that Hill House has some bats in its belfry…but Jackson doesn't actually say that. The closest she gets to coming right out with it is to say Hill House is "not sane," which ties right in to her opening sentence. She also doesn't explicitly say there's anything roaming the halls; what she does say is "whatever walked there, walked alone." An empty house, shut tight against the world, and anything that might be there, walks alone. Chew on that thought for a moment.
The examples I've used here are from the horror genre, but the practice is widely applicable. A little subtlety works wonders in your exposition, especially in fields like fantasy and science fiction, which often requires a lot of world building. Let me provide an example Orson Scott Card gives in his useful guide How to Write Science Fiction and Fantasy:
"It was a perfect flight, which is to say that they didn't emerge from the jump through hyperspace in the middle of a star or heading straight for an asteroid, and even though everybody puked for days after the jump, nobody died of it."
Is this a perfect sentence? Nope; you could cut quite a bit from it and still retain the sense of it, and would likely improve it greatly. Still, the essential point is this: A sentence like this tells you a lot about the structure of the universe being used—faster-than-light travel is used here; FTL navigation is somewhat inexact; space travel is somewhat dangerous, both in the navigation and in the execution; hyperspace has a strong physical effect on humans—and does it without excessively belaboring the point. That's the kind of effect you want to achieve: provide information about the universe and its characters, without getting bogged down and without telling the reader what they should think or feel about the material. Don't feel like you have to explain everything at once, either. Keep in mind that in many cases, the details you want your readers to know are just background detail to your characters, and thus would probably be taken for granted.
Of course, in order to pull this technique off successfully, you have to have a solid grip on what it is you're actually trying to say or what you want your readers to see, and this might not happen in the first draft. Hell, sometimes you might not know what you're thinking or the true point of the story is until the second draft or so. That's not a problem; that's what rewrite is for. Trust your audience, and be careful with what you reveal, regardless of your genre; your stories will be stronger for it.