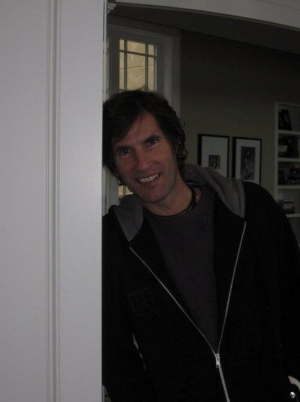 Part II of an interview with Television Show Contest judge, Len Kuntz.
What are you reading now?
I'm re-reading Ordinary People by Judith Guest. It's brilliant. In The Writer last year they said it was the only book to have tension on every page. I thought, "B.S." Then I tracked down a copy, and sure enough--it's skin-crawling angst every four paragraphs.
Also, I'm just about done with Northwest Corner, by John Burnham Schwartz. It's pure gold. Read this book. He also wrote Revolutionary Road.
And in between I'm reading Ben Loory's collection, Stories for Nighttime and Some for the Day. Each one is so fable-esque and childlike, but interwoven with subtext and symbolism that you feel as if you've been stamped or stunned. With over 500 pieces published, you're obviously very prolific. How do you find time to write?
I'm very, very lucky. I write full-time. I retired really young, or young by some standards, anyway. I try to respect the craft and write every day, treat it like a job. It's so easy to talk yourself out of writing and find anything--even visiting jails or sorting through photo albums--other than write.
Every person I meet who's not a writer says they are going to write a novel some day, but I know they never will. It's bloody hard work. Do you have a current piece that you really like that just can't seem to find a home?
A few. "Ovation." It's a favorite. The first line is, "Before she died, Ruthie wanted to go skinny dipping." I just love Ruthie. "Milk," a piece about a man obsessed with a woman who turns into milk before his eyes, is one I've read at The Cell Theater in NY and on a radio show, but it's never been published.
What piece of yours has had the most number of submissions before being accepted and published?
"Medicine and Meat" went through a dozen. And as far as the lit journal who rejected me the most, it was Pank with the winning number of--ding! ding! ding!--25 consecutive rejections. I wanted Roxane Gay to like me so bad, I tortured myself and wouldn't give up. She might have just felt sorry for me, or maybe she wanted to get me out of her hair, but she did take one of my favorite pieces called, "You."
What do you do when you're not writing?
I love movies. I read. I love my kids and my wife.
Are there any journals you want to be in but haven't broken into yet?
Smokelong Quarterly and Wigleaf. And The Colagist.
Do you submit to print journals? Why or why not?
I'm in about 50 print journals, littler ones. At first I took the traditional route, sending to places like Granta and college literary magazines, but you have to get stamps, figure postage, send it off, it sits there for months…once I discovered the massive online writing world, the old way seemed so 8 Track.
And honestly, with the exception of the very big labels--The New Yorker, Atlantic Monthly--a story online (in the lit journal, posted on your Facebook page, put on your blog) will have way more readers than some obscure journal.
Why did you decide to write?
I decided I wanted to write at age nine. It's cathartic to me, a way to escape and exorcize some demons.
Do you see any recurring themes in your pieces? Subjects or ideas that you seem to return to?
Well, my writing is always very dark. I still haven't figured out how to write a happy ending that doesn't see concocted and a little too tidy.
I like quirky dark Indie films, so it's a sensibility thing, I guess.
People are always wounded in my writing. It's usually a young person. They've been victimized in some way, or else they've unintentionally damaged someone else somehow and they're trying to figure out a way to self-redemption. My novel, House of Rats for instance, is about Will Bethel, 15 years old with everything in the world going for him. In short order, tragedy side-swipes him and eventually he ends up in a makeshift foster home with a group of other kids who are kept in a holding cell and given rat names. (It's Slumdog Millionaire meets Lord of the Flies.)
Thanks, Len, for your time and insight; We look forward to your judging for Scribophile's latest contest. We hope you enjoy the entries.