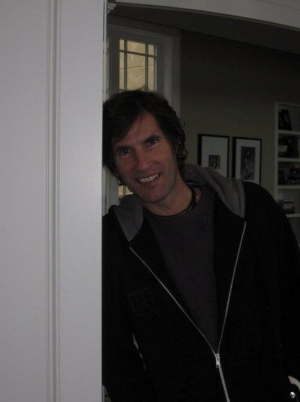 Len Kuntz will be judging this month's Television Show Contest. Today he shares his thoughts on flash fiction, writing, and publishing. Please help me welcome, Len Kuntz. What attracts you to flash fiction?
So many things. I like the notion that it's this burst of something, a shotgun blast or hard candy with a gooey sour center. I like that you can read it in five minutes or less. I like being left somewhat satiated, yet still craving more. I like getting jolted unexpectedly.
Describe your worst acceptance or your best rejection.
Most rejections are very kind. Essentially, editors are writers themselves, and therefore quite respectful. My worst acceptance is probably when they just send you the link and the story's already put up without any sort of exchange or double-checking to ensure that the piece hasn't been taken elsewhere.
What are your goals as a writer?
I tend to be a numbers guy. That's good and not so good. My goals for 2011 were to get my 500th acceptance, get to 800 pieces written, write two novels, get an agent for last year's novel, and get a publisher to take my first story collection. So far I've only managed the first two.
I took the summer off because the bloom sort of wore off after that 500th acceptance. It was like: "Five hundred. So what?" Now I'm back at it, a quarter of the way into a new novel. I really haven't sent out any short work, even though I still have 400 unpublished pieces lying around.
My goal, generally speaking, is to write every day--a minimum of 2,000 words with the winning goal being 4,000. However, a lot of time I let myself down on this one.
My other goal is to write the very best novel I can. I attended The Iowa Writer's Weekend Workshop with Poet Doug Goetsch as the instructor and he did a fine job of drilling the mantra—"Just write the best words you can possibly write"--and reminding us that writers like Melville weren't focused on whether they'd ever land an agent, whether they'd get a publisher. Describe your writing space.
It's sick. Sick in a good way. Really, it is. I sit on the third floor of my house overlooking a lake. Daily there's an eagle that soars overhead. I often see beavers cruising the length of the water.
Behind me are shelves and shelves of books. I've read most of them. 90% of the books are fantastic. Books--novels, stories and poetry--make me feel safe.
I have stacks of story-starts on my desk and a coffee mug I got from The Rumpus at AWP last year that says "Write Like A MotherF*er" on it.
And I have a very large black corkboard with magazine pictures I've torn out to put a physical face on my characters. It's pretty cool-looking.
What advice would you have for those who are interested in trying flash fiction?
Read lots of flash. Read great flash writers like these: Kim Chinquee, xTx, Roxane Gay, Ben Loory, Barry Graham, Aubrey Hirsch, Meg Tuit, Robert Vaughn, Meg Pokrass, Parker Tettleton. There are so many.
Then, when you write, make sure something happens. I am an editor at the lit journal "Metazen" and most of the submissions are either too bland or else they're just this fragment, unattached to anything.
Flash has to pop. It needs to explode. Something unique and/or unexpected should happen. There needs to be a conflict and some sort of resolution, even if it's only implied. And the writing should, hopefully, be somehow lyrical. You write poetry also. Discuss the difference in approach (and rewards) between poetry and flash.
With flash, I usually have the idea, the plot if you will, already figured out.
Poetry for me usually begins with a word or phrase that comes to mind. I hardly ever know where I'm going to go with it. But I write furiously, especially poetry. I get in a trance and don't want to lose that mojo, so I sort of vomit the words into print. Then I'll get a paring knife out. Then I read it out loud to see if there's a cadence and a definitive point.
I love poetry. I prefer to read and write poetry that has a narrative arc to it. Experimental poetry that is just pretty words doesn't do anything for me. I'm not smart enough to understand it.
I love Raymond Carver's poetry. It really gets any attention.
What writers do you admire and why?
There are so many. Really. I love Howie Good and Parker Tettleton because they kern their words and can say such beautifully odd and meaningful things in a marble sack-sized piece. Reading Sara Lippman's writing is like having a knife held to your throat, the blade just at the Adam's apple. xTx is so brave and undaunted with everything--even blogposts--she writes. More than once she's made me shake my head or smile or do both at the same time. For novelists, no one can write dialogue like Richard Price.
Discuss your take on any or all of the following: Novels. Agents. eBooks. Kindles.
Nice question. That's like asking me to comment on the universe.
Novels are gifts, both to read, and when writing one, when written. You sit with these characters and their deepest secrets, their tragic blunders. You watch and hear them have sex! My God. What would we do without novels?
I don't know that I'm qualified to speak about agents, seeing as how I don't have one yet. From the conferences I've been at, though, it's clear they have a profound love of books and writers. They would seem crucial if your hopes are to get your book into as many hands as possible.
Personally, I'm not an eBook fan. I don't like reading long work on a computer. And--this is just my opinion--it seems like with eBooks and chapbooks even, that their very size allows the author to short sheet the bed, so to speak. They don't have to write a fully realized piece. They're let off the hook and a lot of time it shows. Just my opinion, so please don't poor battery acid on my car.
Stay tuned for Part II, in next Tuesday's blog!