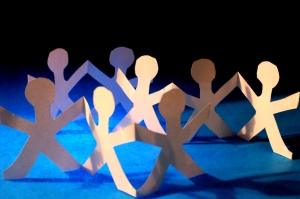 It's LitQuake in San Francisco, something I'm sure I've heard of before but have never been to. It is nine days of celebrating literature and writers with more than a hundred events in San Francisco and the bay area. What does this mean? A great way to meet other writers!
But why would I want to do that, you ask? You have perfectly good non-writer friends. Besides, it's nice being the unique artist in your particular group of cronies. And isn't writing such an intimate art as to not need a network?
Maybe. Maybe not.
With a lot of life's professions, people naturally end up surrounded by others with at least similar interests. If you're a lawyer, you probably work at a firm. A businessman, an office, a scientist, with researchers. Writing, on the other hand, can be a very lonely undertaking. You're not going to see one author's success grow in to a team of writer's who work out of a New York office building and churn out stories all day (unless, of course, that's just how that writer works). But if we look at these other professions, people rarely become extremely successful by working in a pad-locked room for years. Being surrounded by other professionals in their field (even if they happen to be the most advanced member) push them towards bettering themselves--and their business--even more.
So how can you, the writer, meet new writers? What are some of the different forms of writing communities and their benefits? Glad you asked.
1) Writing Groups. Need a critique? Someone to talk through your writing process? A shoulder to cry on? Okay, maybe not the last, although I wouldn't be totally surprised if you could find that as well. Meetup.com and Craig's List are good places to look for writing groups in your area. Make sure that the group is for you before you commit your time and energy. For example, I write horror and fantasy, so I don't want to join a group full of writers who look down on that sort of material.
2) Readings. I just came back from a reading, actually. It was in Oakland at Lake Chalet Restaurant and was part of, you guessed it, LitQuake. There were about 4-5 published authors from the area reading excerpts from their novels. When you attend readings, one interesting thing to take note of is the audience's reactions to certain parts of the narrative and/or dialogue. When we read things ourselves (as reading can also be a very lonely activity), we may forget that other peoples' perspectives exist. Sitting in on a reading can show you first hand what elements of a person's writings move people. Take note of that.
Usually after readings are book signings, and, if you're lucky, mingling. If it is appropriate for the event, go up and introduce yourself to one of the authors who stood out to you, or even one who didn't. Learn about what makes them tick as a writer.
3) Writing Conferences. These are expensive, but can really be worth a yearly investment, especially for writers who are entering the daunting stage of seeking publication. On the web (places like agentquery.com and Writer's Market), you can find out which agents attend which conferences, and a lot of those conferences offer writers the opportunity to pitch to agents in person. This is not only a great way to get your foot in the door and be recognized, but it can lead to beneficial networking. But don't focus only on the agents and the established authors. That person standing right next to you is 99% sure to be an aspiring author his or herself. Introduce yourself. You never know who might be open for some critiquing over e-mail.
4) Writing Forums. Do I really need to explain this one?
5) Workshops/Colonies. Some are pricey, others come with nice grants. These are really the 'get-away' zones for writers. Your time there will be focused on one thing and one thing only: your craft. Workshops and colonies usually have populations that can be counted off in one breath, so, just like a University course of 20 versus a lecture hall of 200, this is your chance to get to know people on a more intimate level and finally get to talk in depth about those writing questions which have been plaguing you since forever.
There are many ways out there to connect to other writers. We all have our talents and connecting with others with similar talents can help us mold and develop ourselves to be better. Once you find a few good people who you click with, you'll feel a lot more comfortable progressing in your writing career.
A word of warning, though. We must remember that our goal is to write. Don't get so caught up in posting on forums, attending conferences, and networking that you are neglecting your actual pen-to-paper time. Like with any resource to help a writer, it can easily become just another tool of procrastination. That being said, if you're still struggling with trying to find time to simply write, focus on getting that in order first and foremost. We (the community) aren't going anywhere :)