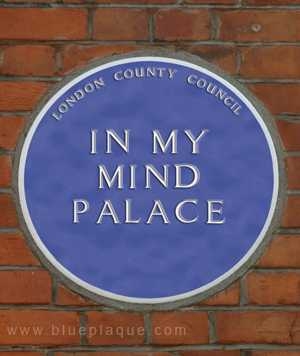 One of my latest obsessions is BBC's Sherlock starring Benedict Cumberbatch. Okay, so I kind of cyber stalk him. It's harmless.
One of the reasons I love the show (other than my Benaddiction) is the writing. Mark Gatiss (who is also on the show as Holmes' brother, Mycroft) and Steven Moffatt have penned brilliant scripts that are funny, clever, and poignant. Each episode runs 90 minutes, and there are only three per season, so it's really more like watching mini movies. Because the writing is so fine, it takes them quite a while to release a new season. I have to wait until this spring to see more of my favorite sociopath, which makes me sad, but I have my DVDs to keep me warm.
One of my favorite concepts from the show is a mental location where the detective goes to collect his thoughts. Sherlock frequently needs time to think through all the disparate clues he collects on cases, and when he really needs to be able to think, he brusquely tells people to bugger off so he can go to his Mind Palace.
The Mind Palace idea has really hit home with me. In Sherlock's world, it is the place where he compiles all the knowledge and information and intuition he has accrued while working as a consulting detective. He has a road map in his mind, a visual record of all the things he's ever seen or heard, as do we all. Our problem is that we generally can't access all of that information at well as Sherlock can.
Within this fictional construct, I have found something useful for myself. I'm no fictional genius detective, of course, but I have a compendium of knowledge and information too, bits of dialogue overheard in coffee shops, emotions experienced long ago, sense memories of lavender and rain and rotting garbage and sea otters in ocean water. (Granted, I may not really want to revisit the rotting garbage, but if I ever smelled it, it's still in there somewhere.) I have visuals of thousands of people, people I've passed on the street or had in classes, or seen in movies or laundromats. All of these are stored in my Mind Palace.
As I'm writing, I'm very aware of this. I work in such a way that I allow the writing to flow as it will, and try not to control it too much. Sometimes that leads me down unconstructive paths, but I figure eventually all things are useful, so I don't worry about it. Often, allowing myself to write from the vault of my Mind Palace yields fantastic results, things that just pop up on their own and surprise me.
I never really had a name for this phenomenon until I watched Sherlock. I knew that there was some source, a place where all things are stored, from which I grabbed ideas and dialogue and visuals and character descriptions. I've always been thankful that I easily access this given the proper amount of time, space, and quiet (which is sometimes hard to come by since I have children, a husband, a demanding cat, and 200 high school English students.)
Now that I have something to call it, I feel it even more. It's a bright, rich place filled to the brim with all my experiences, and all I need to do is take a flashlight and a little courage and poke around until I find what I need or want. It's the ultimate attic, full of trunks crammed with magic and mayhem.
Who needs a vacation?