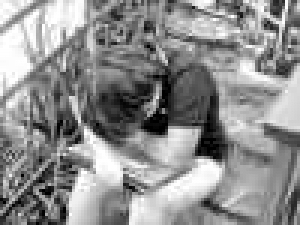 Criticism is hard to take, not just for writers and artists of all sorts, but for everyone. When you create something, or perform a task, and you feel you've done your best, done an admirable, possibly even awesome job, and then someone comes along and says, "That kind of sucked, and I know you can do better," it hurts. We all want people to enjoy the work we do, or, at the very least, appreciate the effort. Deep down, I want people to like not only my writing, but me as well. When a friend has something critical to say about my work, I often worry that because they didn't enjoy a piece I've written, they will somehow hold it against me as a person. I have to get over that, and I am, for the most part. I'll often say, when allowing a friend to read my work, "Here's my story. I think it's pretty good, but, you know, if you don't like it, that's okay. Just don't hold it against me." Honestly, it's a pretty pathetic thing for me to say. I'm immediately doubting the quality of my writing, assuming that the person isn't going to like it, and trying to set up low expectations. I should always stand by my work and not make excuses for its quality before it's even been read. I need to not take criticism personally. Most of the time, the person offering the criticism is trying to help me. They want my work to shine, and if they see a way to improve it, I should listen, and just be happy they took the time to read my writing instead of watching "Jersey Shore" or taking a power nap. It's called a Thick Skin, and it's a quality I often do not possess.
Lately, though, I've found a person who loves my work, yet isn't afraid to point out its deficiencies. The great thing I've discovered is, her criticism is usually spot-on, and the work is improved greatly from her input. I value her critiques, and use it as a tool to improve my writing, to expand my thought process, and, yes, thicken my skin. I believe we all need a person in our lives willing to tell us honestly if a portion of a story or article simply doesn't work. I highly recommend that all writers gain such a person, whether it be a friend, spouse, lover, colleague, or someone whose opinion they trust from a website like Scribophile.
Showing your work to friends is tricky business. Friends want to like your stuff before they even read it. They are forgiving, encouraging, and, often, full of shit. How many times have you let a friend read a story of yours and heard, "It's fantastic! I love it!"? Initially, this sort of response makes me feel all tingly inside. They like me, they really me! But it doesn't help. What did they like about it? Was there anything they didn't like? Could it be improved? Did they secretly hate it but worry that telling me so might make me weep uncontrollably? Are they afraid I'll be mad at them for not loving it?
One solution is to find people who don't like you. A person who thinks you're kind of a douche will always give you a harsh (and sometimes too harsh) critique. They will see every flaw, and possibly even invent a few. This is a good thing. You can sort through the flaws presented to you and either choose to accept some or all of them. You don't have to like a person to respect their opinion. Obviously, the best solution is to find a person who'll be honest, and who has your best interests at heart. If you are relying on someone close to you for feedback, make sure they know you can handle the truth.
A writer must remember, though, to stick true to who they are. Not every piece of criticism is going to improve your work. Some suggestions may very well change the entire intention of what you're trying to get across. Someone might say, "Well, it's good, but why does it have to be so downbeat? Can't we have a happy ending?" No, we can't always have a happy ending. Don't ever let a person talk you out of a part of your story that you feel is crucial, a part that means everything to the story. Always be willing to listen to suggestions, but make changes with great caution. Be true to your story. The writing is yours, and never allow someone's influence to change a story so drastically that it doesn't feel like it came from your own mind.
Have a Thick Skin, listen, consider, but always please yourself, first and foremost.