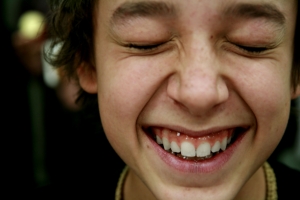 As writers, it is necessary we read. It isn't exactly required that you enjoy reading, but if you don't, there's a long haul ahead. I've never met a writer who didn't enjoy reading, but there's probably at least one out there, trudging through a textual ether, grumbling at reading other people's crap when he or she could be churning out his or her own deathless prose. It could happen…I guess.
Anyway, I'm not interested in talking about such joyless individuals, people who probably make Bartleby the scrivener look like a fount of joie de vivre. Today, I want to talk about something I suspect we all have in common: favorite authors. Actually, let me get more specific: I'm talking about authors who, when you find they have a new book coming out, cause you to squeal (or release a manly grunt of approval, if you prefer) with glee. Maybe you don't follow their career religiously, but every time you see one of their titles that you haven't read before, you feel your face light up, because you know you're in for a treat. Something about their style or their subject matter hits you right in that spongy mass between your eyes and shouts with joy. Maybe even a barbaric yawp or two.
Personally, I have several such authors, people whose writing almost literally fills me with delight, so much so that I will read damn near anything they produce. This is different from authors whose work I enjoy, but have grown tired of some of their hobbyhorses, so I don't rush to try their latest unless the premise intrigues me (Messrs. King and Koontz, I'm looking right at ya). No, you hand me a book I haven't read by one of my own personal glee club, I'll turn off the phone and tell the kids they're walking home from school today, and be thankful they don't have to walk six miles uphill both ways in forty feet of snow like I had to (their grandparents try and tell them something similar, but I tell the kids the truth: their grandparents had it easier because they hadn't killed off all the mastodons yet, and so had rides to school).
Oh, hell, where was I? Oh yes, glee club of authors. Christopher Moore's on my list, because that guy makes me laugh out loud, every damn time. Terry Pratchett isn't, though I love his work, but Tom Holt is. Terry Bisson is, and Andy Duncan would be if he wrote more; if you ever get a chance to read Beluthahatchie, take it. The man's brilliant. Dan Simmons? On it, though I doubt I could ever bring myself to read Carrion Comfort again. Neal Stephenson almost made it, until I tried reading Anathem. Still, Snow Crash and Cryptonomicon have earned him, if not a lifetime pass, at least another shot at it. Isaac Asimov? Charter member: my childhood was bracketed by his works. Harlan Ellison: on it. Theodore Sturgeon: damn close. Richard Matheson: on it. Max Brooks may make it soon, depending on what else he's got up his sleeve. Alan Moore got there on Watchmen alone. Douglas Adams: I'd like to say he's there, but Dirk Gently kind of pissed on that for me (the first book, anyway; I thought the second one was a hoot).
Right now, I have two books on my reading table from authors in my glee club, authors I've not mentioned yet. These authors are two of the newer members of this little convocation of enjoyment in my reading tastes, and part of the joy with which I greet reading their latest works is in the fact that, having started both, I find myself in a win-win situation regarding which one I pick up as soon as I finish this post, which is why I'm typing so damn fast (I realize you have no way of telling this, so just take my word for it). The first author is Mary Roach, a science writer who manages to combine solid research and deadpan wit in everything of hers I've read. I'm working my way through Bonk, her book on the history and science behind scientific analyses of sex. It's just as awkward and funny as it sounds, maybe more so. On the other side of the table, I have the latest collection from Sherman Alexie, War Dances. His poetry isn't bad, but his fiction is always tremendous, and I've never read anything of his that wasn't at least damn good. Hell, even Indian Killer was a good book, and I think he wrote that potboiler on a bet. Plus, how can you not love the work of a guy who titled a collection The Lone Ranger and Tonto Fistfight in Heaven?
I think every reader develops their own coterie of joyful noisemakers over time, finds a set of authors that speak to them or make them laugh until milk squirts out their nose or just plain make them feel good. These authors I've mentioned, they're my glee club. Who's in yours?