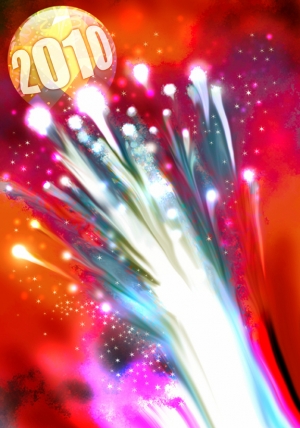 This is the last Scribophile blog post of the year and I imagine that just about all of us have a New Year's Resolution of becoming better writers. Whether that entails being more dedicated, creating a schedule and sticking to it, or improving the actual quality of the words we so passionately arrange in to art, progress is always a good thing.
Before I go into my own personal suggestions on improving your craft, I want to bring up a potential discussion point that I won't explore too much myself, but would like for people to comment on below. I once read that it is impossible for a bad writer to become a competent one and it is equally impossible for a good writer to become a great one (although, with hard-work, it is possible to make a good writer out of a competent one). Of course, this was offered as an opinion with a prediction that a lot of people would disagree. I want to hear your thoughts on the statement. Agree? Totally false? More complicated than that? Let's hear it.
Now that that's out of the way, every writer has his or her own methods for doing what they do. Even those in the experimental stages--they just haven't found it yet. Different things work for different people, but here are my suggestions for some 2010 New Year's Resolutions that may help you find your way.
Reading
I've talked on this before, so I'll keep it brief: read, read, and read some more.
Make a rough list of the books you want to get through in 2010 and a deadline-range for each. This gives a sense of urgency which will motivate you to keep the books flowing. Of course, newcomers may call to you from the bookshelves along the way, but that's fine. The list is just to make sure you have your bare minimum set, along with your motivation.
Join reading groups, if you can. The reason? Every book has a lesson to teach, but you can only experience that book from one perspective: yours. Having discussions about what you read with multiple peers will show you how others respond to the writer's style, voice, and overall message. You may start to pick up on elements that you never thought to look for, elements that you could ultimately want to incorporate into your own writing.
Vocabulary
An editor once told me that one of her joys in reading is discovering new words. As a kid, she would love to come across a term that sent her running to the Dictionary. I can't say that her preference is shared by all readers, but there is no doubt that vocabulary is an essential part of a writer's toolbox.
Now this doesn't mean that you should go and learn 1000 new words in the next week, not unless you're about to take the GRE. Doing this could cause you to force vocabulary just because you have the urge to use that new, fresh word, even if it's unneeded. You don't want to alienate your readers with excessively extravagant words, especially when a much simpler word can get the job done.
Instead, take your new resolution to read more in 2010 and make sure you buy a nice pen and accessible dictionary with your library of books. Whenever you come across a word you don't know, underline it. You can either look it up right then or, if doing so would be too distracting, come back to the group later. This way you are gradually learning new words that people actually use in writing.
An important thing to remember: don't use a word just because. You want to get to a point where you are so familiar with the nuances of the English language that you start using the bigger/less popular words because it is simply the best representation of what you're trying to say. By creating such an intimate relationship with your vocabulary, soon the words should start to find their way into your writing naturally instead of being forced.
That, and a big vocabulary helps when you want to avoid being repetitive.
Workshopping
I mean this in a broad way. Whether it's letting a few of your friends read your work, writing for a class, or even getting critiques on a site like this one, it's important to get feedback. We often write things in our own little world and it's not easy to imagine how that writing would be experienced by someone other than ourselves. We thought up our characters, scenarios, and environments, so it's hard to truly tell if the descriptions we offer would paint the same picture for someone else.
Even if you have developed a great eye for those types of things, no one's perfect. We're all bound to miss something, and workshopping and feedback can supply fresh sets of eyes. Your readers haven't slaved over writing the text for days/months/years, so it will be a lot easier for them to suggest change.
Critiquing others' work supplies the same type of benefit reading does. Exposing yourself to a plethora of writing styles and voices will help you develop your own. The benefit of workshopping is that you can be paired with writers of similar experience, potentially exposing you to flaws that may not be as prevalent in published works. Now you know to iron out those same flaws in your own writing.
If you can, I'd say join a workshopping group. There are tons of free ones (check Craigslist) and if you can't find any, you have a great resource here.
Write!
So obvious, it shouldn't need mentioning, but it's a problem a lot of people face: they just don't have the time/motivation to write! If it's about motivation, maybe you should step back and pinpoint exactly what's missing. Writing, like any passion, shouldn't feel like a chore...not all the time. Like anything, things will become frustrating/have their down-times, but if you find yourself dreading sitting down to put words against words every time, something may be wrong. Before continuing, it will be good to know if this is because of lack of confidence, writer's block, genre exhaustion, or plain dislike for the craft.
Besides those extremes, writing can be hard to fit in to busy schedules. It is time-consuming and often doesn't pay the bills. If you're a beginner, set a small daily/weekly goal. Write as much as you can, as varied as you can. Challenge yourself with topics you wouldn't normally write about, characters that aren't your forte, perspectives that are foreign to you. Carry a small notepad so you can jot down ideas at any time of the day. Create goals at the beginning of 2010 on how much you want to write for the year, what kind of writing, and how you plan to fit it all in.
Whatever you do, the most important thing is to get in that practice. Even if your stuff sucks, just continue chugging at it because it's what you love to do. Remember, if you're at the bottom of the skill-ladder, you can't do anything but go up.
Happy New Years and let me know how the planning goes!