One of the great things about literature is that as time goes on, authors become increasingly bold in all elements of their writing. Although modern day readers and writers are used to the notion of "artistic freedom," there was a time when there were strict guidelines pertaining to how literature should (and often could) be executed. As the rules became blurred, however, literature emerged that was innovative in all respects. An example of such innovation can be seen in the employment of Magical Realism in literature starting in the 1960's. This genre offers an exciting and original approach to writing where strange, nonsensical elements live side-by-side with the real world--people might ride magic carpets to work, be born with green hair, or live for 150 years.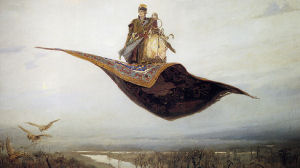 Magical Realism, when applied to literature, can be described as the occurrence of outrageous, illogical, and even magical elements in an otherwise normal or realistic setting. Though it may sound odd to readers that are unaccustomed to literature of this genre, such magical elements do not necessarily seem out of place nor are they meant to be disruptive to the atmosphere of the work. This may be due to the fact that the genre originated with Latin American authors and is therefore an eclectic mixture of the rich culture, history and mythology of the region.
In terms of its uniqueness, Magical Realism can be seen as a means by which authors can emphasize a point or characteristic, and it often creates a connection between a character's exterior physicality and their internal or psychological factors. For example, in Isabel Allende's The House of the Spirits the character Rosa is said to be "made from a different material than the rest of the human race." Rosa is graceful, peaceful, and rather absent. But rather than simply describing her as such, Allende goes further by describing Rosa as having a "disturbing beauty," and revealing that her appearance is "on the tenuous line between a human being and a creature of myth." The Magical Realism at play then becomes extremely evident when we learn that Rosa was born "white and smooth…with green hair and yellow eyes" and that her skin was even "translucent" in some places, where "veins and the most delicate texture of muscles could be seen." Such characteristics of the human anatomy obviously aren't plausible, but Allende employs Magical Realism as a sort of emphasis, so that Rosa's internal factors are mirrored in her physical appearance.
The description of Rosa is an example of "the inexplicable," which is arguably the most important and certainly the most noticeable aspect of Magical Realism. Besides its use in terms of emphasis and stylistic effect, this aspect is significant because it forces the duties of the reader to evolve. The reader is forced to make a personal interpretation of the text. This is because the magical elements are often presented in otherwise ordinary or even mundane circumstances, and the other characters of the work do not respond as one would expect. To reference the above example from The House of the Spirits, Rosa's mother is not at all surprised at the appearance of her daughter, because "she had already seen her in her dreams" before she was born. Furthermore, besides thinking Rosa is extremely beautiful, the rest of the characters do not seem to take notice of the fact that Rosa's green hair, yellow eyes, and translucent skin are anything to be shocked about. Therefore, rather than merely read and absorb, such inexplicable elements force the reader to disregard their perceptions of reality in order to decode the text.
Magical Realism can feature many other distinctive aspects as well, such as the use of dreams and the unconscious, the distortion of time, and the incorporation of legend or folklore. In general, however, the occurrence of inexplicable or magical elements is what makes it most recognizable and effective.
The House of the Spirits by author Isabel Allende is a great place to start if you are new to Magical Realism and would like to try a new genre of literature. Gabriel García Márquez, who is one of the most famous writers of this type, also has many fascinating works, such as his renowned One Hundred Years of Solitude. Many other authors have adopted the technique as well, and it is no longer limited to Latin American writers. Magical Realism is a prime example of the endless possibilities that literature has to offer. Read and be inspired!