Most of you probably have a favorite novelist, or even a favorite poet, but how many have a favorite playwright? It seems as though most people associate plays with performance and theatre, but they are works of literature above all else. And although reading a novel or a poem is arguably more fluid than reading a play, the latter can be just as enjoyable. Plays are just a different form of literature, and maybe even one that is in some ways preferable!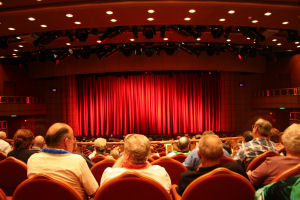 Have you ever been reading a novel and come across a long, adjective-filled paragraph that takes eight sentences to describe a sunset? Though such writing can be beautiful in its own right, sometimes we just want to get to the point. Plays, on the other hand, are almost entirely comprised of dialogue and therefore very direct and concise. Since the ultimate intention is that the plays will be performed, they are meant to be as entertaining and engaging as possible. This makes for a lot of action packed into a small amount of writing, and therefore a less-bored reader in some cases.
Although plays are generally more succinct and fast-paced than a novel or other works of prose, they are still a form of literature and can therefore be analyzed and explored just like any other. They often have a deeper meaning or message, which makes studying a play really no different than studying any other work.
The works of playwright Joe Orton embody all of what has been discussed here so far, and to describe them as entertaining would be an understatement. For one thing, they have a definite sociopolitical message, often criticizing or mocking the middle class. Orton himself was born into a working class family and always felt resentment towards the middle class and its attempted authority over classes below it. But the fact that he criticized the middle class is not what made his plays so controversial; rather it was the way in which he presented his critique. Orton was always very open about his homosexuality, and therefore often employed highly sexual and scandalous subject matter, which shocked and even outraged many viewers.
The play Entertaining Mr. Sloane is an example of both Orton's critique of the middle class, and also of his outrageous topics. The story is of a young working class man, Mr. Sloane, who is looking for a room to rent and finds himself in the home of a supposedly respectable middle class family. We soon learn, however, that the lady of the house is a nymphomaniac who's interested in Mr. Sloane as more than a renter. Her brother, furthermore, is a homosexual who also takes a liking to Sloane, employs him as a "chauffer," and requires him to wear leather pants and complete other questionable duties. As if that isn't enough, the father of the two is a psychotic old man who is literally losing his mind. Yes, you read all of that correctly.
So what's going on here? Is Orton just trying to see how much dysfunction he can cram into one play? In all honestly, a large part of his motivation did stem from a desire to cause moral outrage. The play emerged in the 1960's, when ideas about women's liberation and gay liberation were only beginning, so to have a story that featured a homosexual male, his nymphomaniac sister, and their psychotic father was undoubtedly unheard of. But rather than just depicting a gamut of psychosexual variations, Entertaining Mr. Sloane was intended to be politically insurgent and Orton had a greater purpose. Through the juxtaposition of individuals that would have been considered completely unacceptable with the idea of the traditional middle class family Orton is able to criticize the social hierarchy of the time. The characters themselves in Entertaining Mr. Sloane are not its most shocking aspect, rather the fact that such individuals make up the middle class is wherein lies the scandal. Orton employs Sloane as the symbol of the working class in order to portray the domination and corruption of the middle class. Just as he is a victim of the family in the play, so is the working class victimized by the class above it.
Hopefully by this time you are thinking that perhaps plays can be fun to read after all. Joe Orton may be a rather extreme example of a playwright, but his works offer evidence to the fact that plays are both entertaining forms of literature and contain important content and meaning as well. Besides Entertaining Mr. Sloane, Orton has many other fascinating plays that will undoubtedly keep you engrossed.