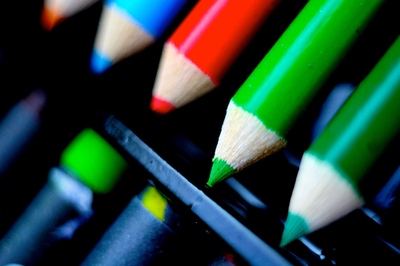 I'm sure everyone here has at least heard about outlines. They're those weird creatures that were designed to help writers create wonderful, consistent plots. I'm also pretty sure at least some of you not only know how to use outlines, but are actually using them when writing your stories.
There are various methods of writing the right outline that'll help you best with your story. There's the Snowflake Method that is rumored to be awesome but gives me headache every time I think about it. There's the Ten Point Novel Concept Outline, and for those completely unfamiliar with the concept of outlines, there's Novel Outlining 101.
And here, to be honest with you, is where my knowledge of outlines end.
I know how a good outline should look like, I know why outlining your novel is the right thing to do. And I know what sort of information about my plot and my characters I should have before actually putting it all in words.
I attempted an outline in 2006, when I was taking part in NaNoWriMo. I had this huge idea for a novel and I wrote an outline. Being weird the way I am, I even color-coded the whole thing. It was fun. I never wrote that novel, in case you're wondering. I still might have the outline, somewhere on my hard drive, though.
It's something I learned the hard way. I'm incapable of writing with an outline. Once I put all the plot twists and events in an outline, something switches in my brain and I can't write around it. It's as if my brain registered the fact that I finished the outline and filed it under "finished projects, don't bother with it again".
And I'm not the only one, who works that way.
If you're one of those writers who has absolutely no problem writing with outlines, I salute you. You're the type of genius I wish I was. Clearly you have it easy.
But if you can't, for the love of God, learn how to use outlines. Don't worry. If I found the way around it, so can you. And even though I can't guarantee my way is the best and will always mean you finish your stories (and make them awesome), you can try it and see if it works for you as well.
I start with basics. When I get an idea for a story, I think about where I want to start and where I want to end the whole thing. I would like to say that after that it's simply getting from point A to point B, but that would be a lie.
With short stories, it really is easy, because between the beginning of the story and the end, there aren't many words. But when I'm writing a longer piece, like the one I'm working on at the moment, I need to get from point A to point T, and that's slightly more complicated.
Unlike most writers, I'm incapable of not writing scenes in order. For me, point B must be written after point A and point L always comes after point K. It's a curse, really, but I got used to the fact that I can't do things the easy way. Normal people, I mean other writers, write whatever their muse brings. They write the beginning of the story, then the plot twist, the end, then they return to write two more scenes at the beginning and they fill in the blanks like this until they're done. And that's a really good method. That way you never get stuck, you just avoid the difficult spot and come back to them when you have a solution or an idea of what it is that's supposed to happen now. It's not a secret that I envy writers who are able to write this way.
Another thing I do when writing long stories is letting the characters drive. They usually know what's best for them and how to stay alive, no matter what I throw at them. I just have to figure out their backgrounds and gently push them in the right direction. If I bribe them with enough candy, they do their best to meet my expectations. Sometimes they even throw in a plot twist on their own and it works out perfectly.
You can try this little technique, but I feel like I need to warn you. If you want to let your characters drive (and like me, just sit back and type what they say, often making conscious effort not to think about 'spoilers' to the story), you really need to know yourself, your way of writing and your characters. You also have to trust your ability to improvise and be willing to rewrite parts of the story during editing to make it fit together nicely. Believe me when I say it's frustrating sometimes, especially when your editor points out a mistake at the beginning of the story that ripples through the whole thing.
Now, take the word from someone who would kill to be able to write with an outline. Before you attempt to tell the story as you write, or do minimal planning in your head without writing it down, try the outline first. Outline can save you countless rewrites and pain of hearing from your editor that something is wrong, wrong, WRONG.